Career outlook
What can I do with a degree in public health?
A major or minor in public health prepares undergraduate students for careers in both public health practice and applied public health research. Students will learn to ask questions, challenge assumptions, and explore answers to promote the health and well-being of communities locally, nationally and globally. Being committed to improving the health and vitality of Detroit, graduates will have the ability to assess and prevent health disparities across Detroit, Michigan and beyond.
If you're looking for diversity in courses and career opportunities, desire promoting disease prevention and are excited to study broad topics that can affect the health and well-being of individuals, communities, populations, and the world then an undergraduate degree in public health is an excellent option.
Transferable skills
A public health degree offers skills in:
Critical thinking
Communication (verbal and written)
Problem-solving
Teamwork
Statistical analysis
Project coordination and management
Program planning, implementation, administration, and evaluation
Career insights
Still want more information about what degree is right for you? Visit our career insights explorer tool to learn more.
Graduate study
This degree also provides a solid foundation for graduate study in:
Notable people with a public health major
Susan Desmond-Hellmann (chief executive officer of the Bill & Melinda Gates Foundation)
Christy Turlington (model)
Dorothy Louise Slaughter (United States representative for New York's 25th congressional district)
Brian Kamoie (deputy assistant secretary and director, Office of Policy and Strategic Planning in the United States Department of Health and Human Services)
Major functions of public health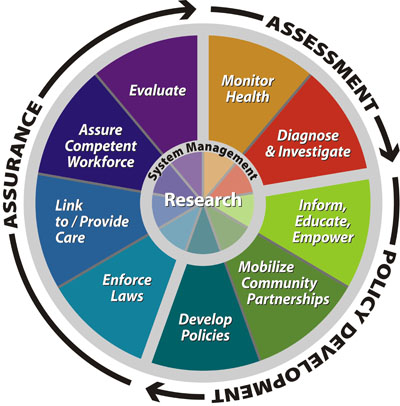 According to the U.S. Department of Health and Human Services' Public Health Functions Project and the Center for Disease Control and Prevention, public health services should include the following:
Research: for new insights and innovative solutions to health problems
Evidence-based approaches: using an evidence-based approach helps to define areas where research is lacking (and that evidence comes from research)
Assessment: identifying health problems and priorities
The ten most common functions of public health services include:
Monitoring health status to identify community health problems.
Diagnosing and investigating health problems and health hazards in the community.
Informing, educating, and empowering people about health issues.
Mobilizing community partnerships to identify and solve health problems.
Developing policies and plans that support individual and community health efforts.
Enforcing laws and regulations that protect health and ensure safety.
Linking people to needed personal health services and assure the provision of health care when otherwise unavailable.
Assuring a competent public health and personal health care workforce.
Evaluating effectiveness, accessibility and quality of personal and population-based health services.
Evaluating the effectiveness of public health interventions.
It is likely that students who major in public health and go on to careers in this field will be engaged in some of the above activities.
Source: Public Health Functions Project, U.S. Dept. of Health and Human Services