Adventures of an American intern in Italy: Jordan David
Many of us dream of taking a chance and traveling abroad without every detail of a plan ironed out - maybe with just a destination and a goal. When Jordan David accepted a teaching internship in Bergamo as part of the SITE internship program, he made that dream a reality.
He knew where he would be teaching and the general region he would stay. Beyond that, it was whatever he made it. Open to opportunity, Jordan sought out a room the very day he arrived and fortune brought him to a family of four - a professional Italian chef, a woman in marketing, their 7-year-old son Emmanuele, and their nonna (grandmother).
Little did he know that the family was in need of a tutor for Emmanuele as well as a tenant, a role that Jordan slipped into with ease. It was not the first time he acted as a tutor - just a year prior, he received the opportunity to be an English tutor to four children in Tuscany.
Without that base of teaching English and improving his Italian, he would not have been so prepared for his actual internship at I.T.I.S. Pietro Paleocapa High School.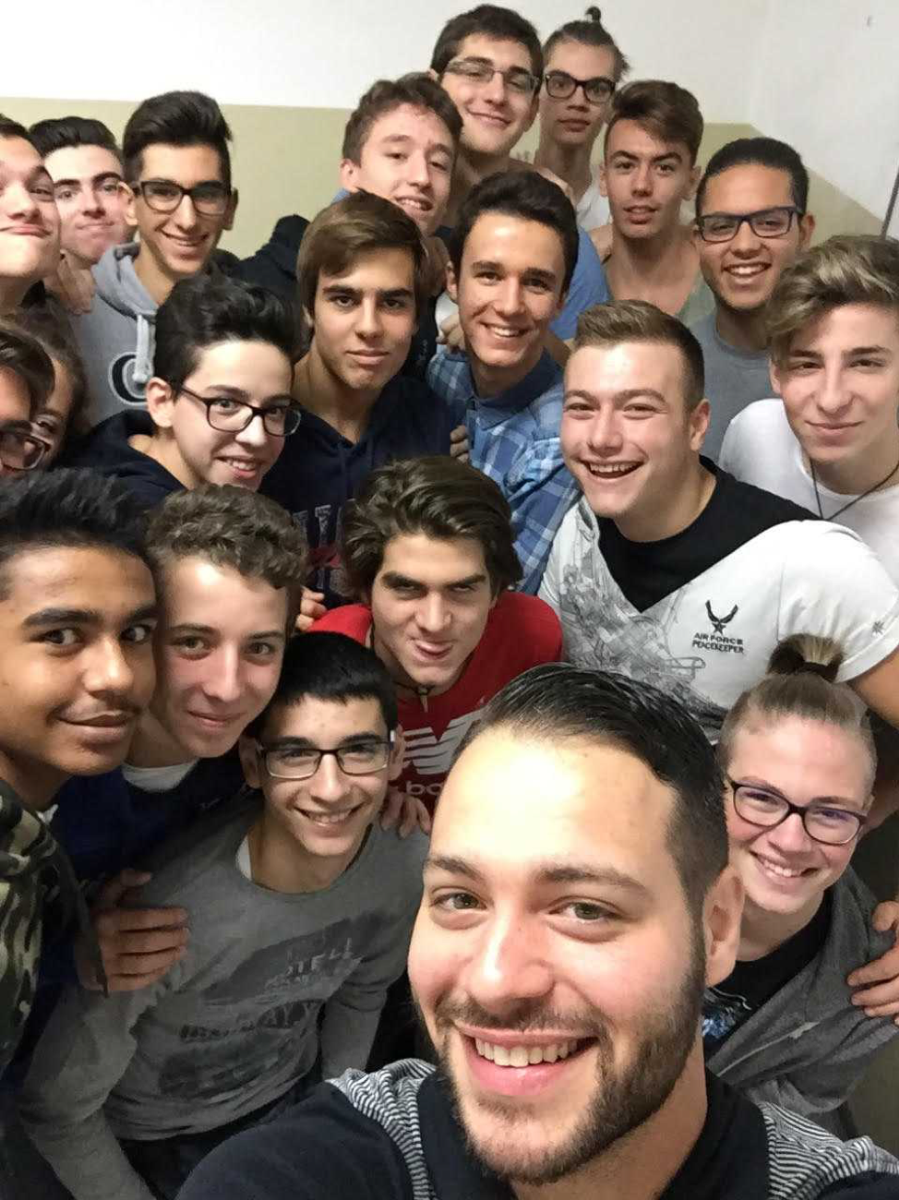 On his first day of work, Jordan walked into a classroom where each student had a giant book on their desk. He was informed that he would be teaching that textbook - an advanced subject written largely in English. He quickly learned that the students could scarcely get through a chapter of the book and comprehend it, let alone tackle the whole thing.
Considering it was his job to teach them, Jordan approached the head of his department with a proposal - he would teach English for a few hours every morning and then the assigned reading for the rest of their time together.
Ultimately, Jordan was so efficient at teaching that other people got involved in following his classes. Specifically, faculty members who wanted to learn English as well. He never thought to say no to the extra responsibility, not merely because of his position but because he learned as much from them as they did from him. As he taught his students English, they helped him refine his Italian.
During his time educating both students and faculty, Jordan also dabbled in one his favorite hobbies - sports. In particular, basketball. He found a sports facility nearby and met some people who were amenable to letting him practice with them. However, they weren't just casual players. They were on an official Italian team.
After a while, they gave him the phone number of their captain, Marco Panigada, so he could ask about a more permanent position. When the two first spoke, they talked a little about the logistics but in particular how Jordan would get to the games since he was without his own transportation. He described his location and to his utmost surprise, he was told to step outside of his home.
"Cosa?" he asked - "What?"
"Vai fuori," he was told - "Go outside."
Jordan did just that, ending up face to face with the person on the other end of the line. They lived right next door to one another!
That proximity made future excursions with the team much more convenient, although Jordan still had many bureaucratic hoops to jump through before being accepted as a player on the team. It was well worth the effort, as Jordan was able to enjoy his time as a teacher while also participating in a sport he loves - and not just with anyone, but an Italian team!
As much as things fell into place for Jordan as time went on, it was because he faced each challenge with a commitment to follow through. He found a place to stay through sheer determination and ended up contributing to the education of a child he never would have met otherwise.
He was presented with a textbook that his students struggled to grasp so he worked to give them an excellent foundation for future learning. He wanted to play basketball with his newfound team and he made it happen!
Although every situation is different, there is much to be said about taking a chance and relying both on our skills and the assistance of others. By doing so, our lives can evolve in unpredictable but truly exciting ways.