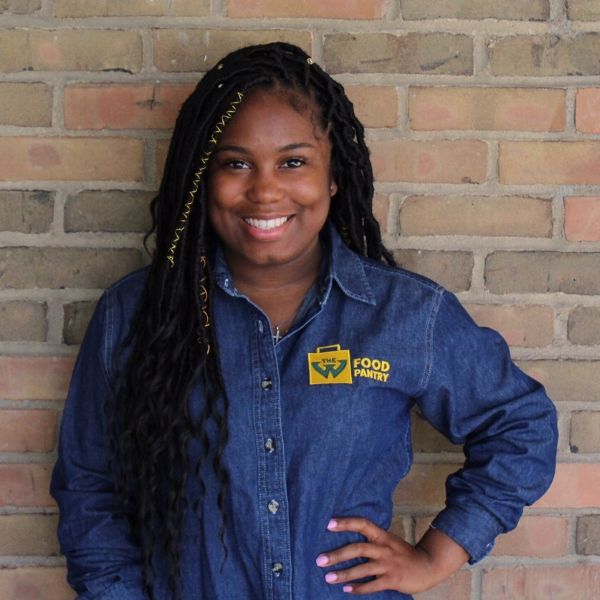 M.P.A. student helps to reduce WSU student food insecurity
For current M.P.A. student Rainesha (Rai) Williams-Fox, 2017 was an exciting year. As the coordinator of The W Food Pantry, she has been working to help reduce food insecurity among Wayne State University students since the pantry's opening in April 2017. Ms. Williams-Fox was selected for this position after working as a consultant to the McGregor Fund, which provided a grant to reduce student homelessness and hunger at Wayne State. The W Food Pantry is a member agency of Gleaners Community Food Bank, and last September, was awarded a one-year, $34,000 grant from the Community Foundation for Southeast Michigan allowing for further progress in meeting the mission of providing "currently enrolled Wayne State Warriors in need of food assistance with supplemental food and additional resources to enhance student success."
Ms. Williams-Fox began her graduate studies at Wayne State in the rehabilitation counseling program after receiving a B.S. in criminal justice from Grand Valley State University. After realizing that she desired a stronger knowledge of policy formation and implementation, she decided to change her course of study and applied to the M.P.A. program. Now, after completing two semesters in the M.P.A. program, she is able to take concepts learned in M.P.A. courses and apply them directly to her work at the food pantry. She describes PS 7340 Public Personnel Management, taught by Dr. Alisa Moldavanova, as a particularly useful course. Ms. Williams-Fox is responsible for leading a team of twelve students at The W and she believes Dr. Moldavanova's course not only helped to shape her current leadership style but also prepared her for leading diverse teams in general.
Ms. Williams-Fox says the positive effect of the food pantry for the WSU community is already evident in the number of students served so far; at the same time, she is continuously evaluating how that impact can be greater. She recently partnered with students from the Department of Nutrition and Food Science to create menus which encourage students to select a balanced assortment of food items from the pantry and recipe cards based on the current pantry offerings. Next, she is interested in creating healthy eating seminars and cooking classes for students. As for the future of The W Food Pantry, Ms. Williams-Fox would like to continue to increase program offerings and help connect students with the variety of campus and community resources available to help them succeed.
For more information, visit The W Food Pantry.