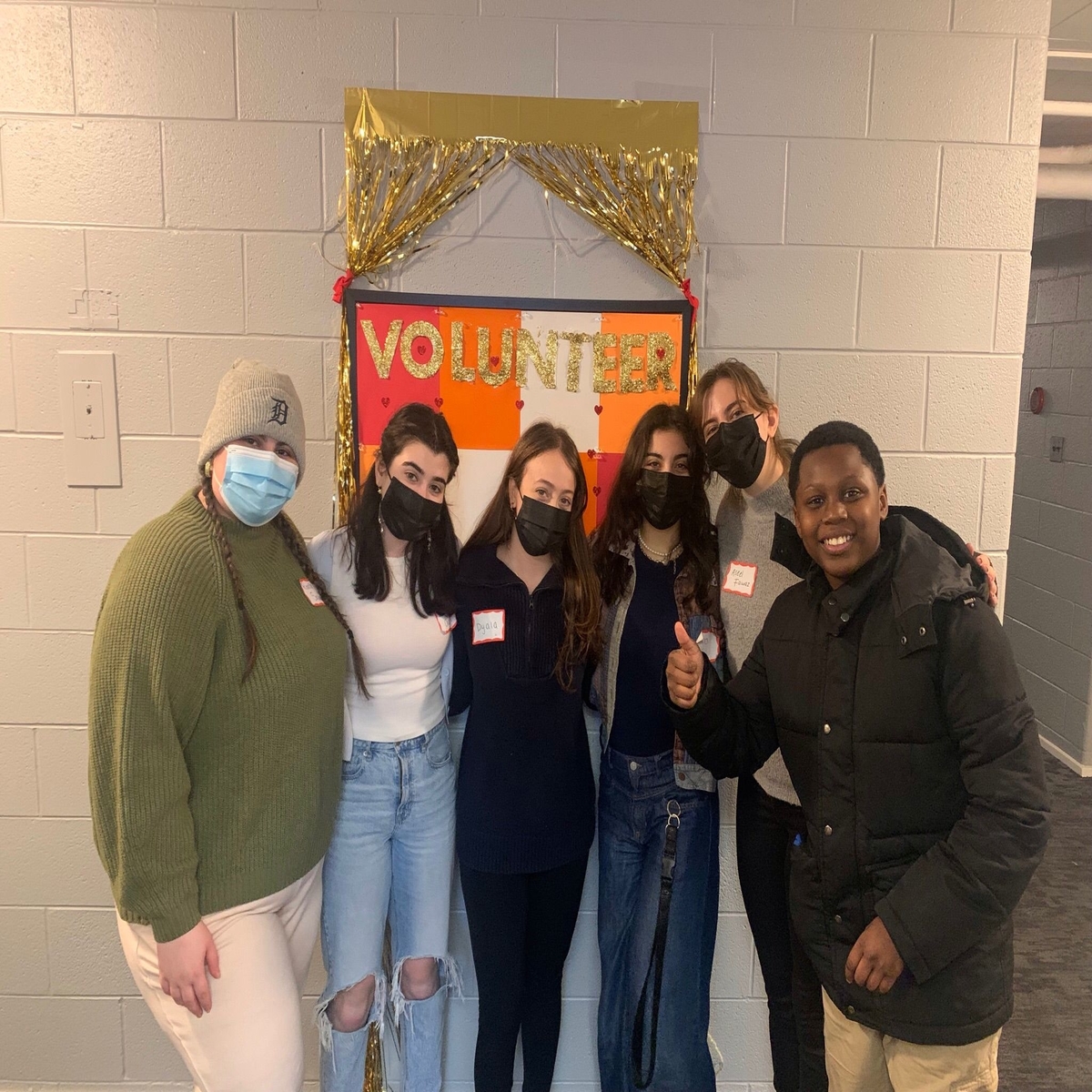 Service-learning in Detroit
As part of a public, urban research university, the Department of English is committed to Wayne State's mission to "create and advance knowledge, prepare a diverse student body to thrive and positively impact local and global communities."
One of our signature initiatives in this area is ENG 3020: Writing and Community, a service-learning course that allows students to make a difference in the local community while they fulfill the intermediate composition requirement in the General Education program. As a result, ENG 3020 epitomizes the community-oriented, can-do spirit of Wayne State at its very best.
ENG 3020 is a Detroit-centered course with a distinctive commitment to service learning and community engagement. Students volunteer up to twenty hours a semester at local community organizations, including the Detroit Black Community Food Service Network, D-Town Farm, St Vincent Sarah Fisher Center and Zero Waste Detroit, among others. As students research and write about real-life issues, they gain hands-on experience in the community and work to address local issues. As Ryan Flaherty (Assistant Professor of Teaching and coordinator of ENG 3020) explained in an interview, "English 3020 is a course that seeks to teach students how to build bridges between the university and the communities that share the city of Detroit with us.
These bridges are built through volunteer hours in a practical sense, but service alone does not fulfill the goal of the course. In English 3020, students are encouraged to think about what social, political and economic conditions create the need for community organizations to do what they have to do to help their communities survive and thrive. The goal, ultimately, is for students to become aware of the great work that community organizations in Detroit do, to do that work as volunteers and to explore in writing the important issues that affect communities and community organizations." As his comments indicate, the unique format of ENG 3020 breaks down barriers between the classroom and the city.
For those reasons, ENG 3020 is often a transformational experience for students. While many students take the course to fulfill their Intermediate Composition requirement and to log required community service hours for the Honor College, they are surprised by the insights gained from ENG 3020's interweaving of community and rhetoric. Armen Jacobs, for example, stated in a recent interview that "Experience-wise I gained a better understanding of some of the issues that Detroit has and how we can volunteer and work with organizations to solve those issues."
Meanwhile, Kayla Guillen noted, "I learned to take action in the community … I was able to understand and connect better with the community." Their experiences in ENG 3020 show the impact of service-learning and community engagement in a university setting: by giving students the opportunity to volunteer, this course helped students develop their own agency and contribute to their community.
Guillen, Jacobs and Christopher Ramus were so inspired by their experiences in ENG 3020 that they started a new student organization at the suggestion of Professor Flaherty: Community, Writing, Engagement iN Detroit (CWEND). This organization allows students to volunteer, write and work in the community beyond the course's requirements. In addition to continuing to volunteer at local organizations, its members write a biannual newsletter that highlights the work done by students in ENG 3020.
As Ramus explained, in the newsletter "we promote anything service-related to Detroit and the work of individuals in positions of community service." The most recent issue includes profiles of community-based organizations as well as a summary of the work done in ENG 3020 this academic year. Bringing together community and writing, the newsletter allows CWEND members to delve into the relationship between the rhetoric and place.
ENG 3020 may seem daunting to students at first, yet it makes a major contribution to the city even as it pushes students to move beyond their comfort zones. Jacobs, for instance, stated that "It is a big responsibility knowing that people depend on you for something and depending on how well you do your task, can either help the situation or make things more complicated and difficult. Yet, I found that over time I became more confident by pushing away my negative thoughts [and] by focusing more on the objective rather than myself."
As Professor Flaherty commented, that larger context is crucial: "We get the opportunity to show these organizations that we care – that we want to be a part of their efforts, which make a better future for Detroit possible." In doing so, ENG 3020 fulfills an important part of Wayne State's mission as an urban university and Professor Flaherty welcomes everyone to join in, saying, "I would like to invite everyone to come and help us help the organizations that help the people who need it the most!" Anyone interested in enrolling in ENG 3020 or joining CWEND can learn more about our student groups.
– Brieanna Garbin