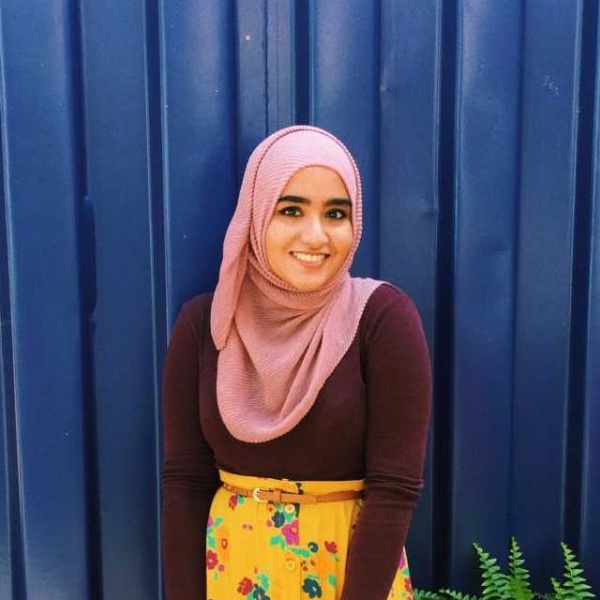 Meet Nushrat Rahman
What inspired you to pursue an English degree?
I came into Wayne State relatively undecided. I didn't know which direction I wanted to head, but I knew that I had my passions, and they would lead me in the right direction. I loved to read, I loved to write, I loved design, and I loved putting words together to create meaning. At that time, I didn't know all that could translate to an English degree. During my freshman year, I was interested in journalism, but I hadn't declared anything yet. So one night, I was scrolling through the different departments at Wayne State online, and I came across the English website.
Compared to journalism, I thought English seemed more based on literature and creativity. That was the angle I wanted to head toward, to dip my feet into that kind of writing. I saw that there were classes on British literature and creative writing at various levels, so I figured this was an incredible chance to try out different writing opportunities. It was a kind of a spur of the moment decision, but my English journey was amazing, and I was an Honors English student too, which added another layer to it. I was able to align my interests and passions, and English turned out to be perfect for this.
During your senior year at WSU, you took the Internship Practicum class with Professor Lisa Maruca. Where did you intern for the class?

I did an internship at Hour Detroit. It was the only internship I did, and I wish I did I more. Hour Detroit wasn't actually an option in the class, it was something I had found. That was one of the most invaluable experiences I've ever had so far, and I think it spearheaded my decision to pursue the career I'm interested in right now. During my time at Hour, I was an editorial intern. I was really involved with fact-checking, so I would get copy from the writers, freelancers, and editors. I would go through it line-by-line, making sure every part of the piece was factually correct. It involved calling up people and sources, and doing online research. It could be a grueling process, but in retrospective, was very beneficial.
Another gem within the experience was the writing that I got out of it. I want to say I was able to publish two to four web pieces a week. I was there for four months, and I was able to publish a print piece for each month I was there as well, another thing I'm really grateful for. One of the main takeaways I learned in that newsroom environment, is that you have to be a go-getter. Every single Wednesday, we'd have a web pitch meeting, and we'd have to go with three or four ideas. I was afraid my ideas would suck, but I pitched them anyway. I think they saw that I was a go-getter, pushing myself beyond my comfort zone. It was a very beneficial experience, and I realized how much I loved writing articles.
Coming from an English background, do you feel you brought a different perspective to your work there?

The students that come in as editorial interns at Hour are mostly journalist students. The editors mentioned this too- They don't typically get English major interns, so I was probably the only one there. I think I definitely brought a valuable experience, because my writing style was different from traditional journalism, in which the other students were trained. The survey writing and creative writing classes I took helped prepare me for this kind of work, because part of being an English major is always being curious, and hungry to learn more.
Also, because it was a magazine, and not necessarily a traditional newspaper, they kind of look for a more narrative edge. Due to my English background, I wasn't afraid to get into a storytelling mode. They said they appreciated that aspect of my writing, and that's definitely something I credit to my English background. With an English degree, you're learning skills. These skills are transferable to nearly every field. Essentially, it's communication, and wherever you go, you're going to have to be able to communicate. Right now, I'm working at a technology company. I never thought I would work in this field, and I've really realized how important clear communication is, whether it's in speaking or writing.
What sort of work are you doing for this technology company?

I'm working as a content developer intern, writing for the blog the company has, which goes out to hundreds of team members. I interview people and learn about what they're doing at their jobs, and I write about that. It's really about internal communications, and connecting folks within the company to one another. That's my main 9 to 5 job, but I'm also working for the New York Times in a contributor's position, and I'm a research and writing intern for an institute called the Family and Youth Institute.
Could you tell us more about the position at the New York Times?

Honestly, I still don't know how I got it! There were 21,000 applicants, and I keep thinking to myself, how? Anyway, I applied for the position in January. I saw advertisements for it on Twitter and decided to sign up. I did it in the dead of night and didn't think too much about it. I wasn't sure I would get it, but it was worth a shot. After I moved past this first phase, they gave us a prompt to write an article. One of the prompts was about environmental issues, and another was about internet security issues. The next phase was the interview, where we had to interview with the editor of The Edit. These were all months apart, and I think it was August that I learned I was accepted. It's been a crazy process, but I'm so grateful to have the opportunity.
It's also interesting because it's a remote position. There's a lot of coordinating and emailing with the editor and the other contributors.
Have you gotten a prompt yet for your first article?

One of the things we've been doing lately is pitching to the editor. I've pitched a couple of ideas, and one of them is "How can recent graduates and college students prepare for life after graduation?" I understand what that struggle is like, especially for folks who aren't going into a professional program. Say, you know you're going to law or med school, that's great. But what about the people who don't know exactly what direction they want to head into? So I got a chance to interview a couple of folks for that.
Another thing I've gotten a chance to work on is called "Let's Figure It Out." It's a section of the newsletter, and it's essentially questions from readers. It's funny, because we got a question from a Wayne State law student, and I got to speak to her about my experiences. With The Edit, it's not just about submitting articles but also working on projects. We have to think, how do we engage people in our demographic the best way? It's been a really awesome process so far. I'm learning that, even if something intimidates me, I need to jump into opportunities to see if I have something to say.
It sounds really neat, we'll definitely be keeping an eye out for your articles. So do you have any advice for up-and-coming English majors now?

Yes, the English curriculum at Wayne State is really diverse, so I would recommend that students explore their options. In terms of content, there are a lot of different options. For example, there was a class I took with Professor Jaime Goodrich about John Milton. It was all about Milton, and even though I had no previous experience reading his work, I was curious. I ended up loving the class, and I was even able to present at a conference with a paper I wrote there. Honestly, step out of your comfort zone. I didn't really have a concentration with my English degree- I took creative writing, literature, and rhetoric classes. It's good to be curious and to challenge yourself.
My second piece of advice is to take on internship opportunities. Whether you already know what you want to do with your degree or not, you should take on these opportunities and the internship practicum class. If I hadn't done the Hour Detroit internship, I wouldn't be as gung-ho about going into journalism as I am now. I remember that Dr. Maruca had a list of internships, but don't be afraid to look for other internships. My Hour internship wasn't listed, but I asked Dr. Maruca whether I could do it for the class, and she said yes. Even if there's an internship you don't think will fit with the class, it doesn't do any harm to ask.
What was your favorite English course and why?

I loved most of my classes, but just one of my favorites was the creative non-fiction class, with Professor Donovan Hohn. I loved that class! With every single class time, I was improving my writing, interviewing and fact-checking skills. We had the most enriching conversations, and I was surrounded by some of the best writers in the Department. The peer editing sessions were so helpful too. Taking that class, I realized how much I loved doing people pieces. One of my favorite assignments that I worked on was about a teacher I had. That experience really taught me the value of what it means to interview someone. It's a constant learning process, but it was that experience that got my foot in the door. This class, along with my internship, truly made my last semester at Wayne State transformative. It really set me on a good path in the direction my career will go.
By Tristan Shaw