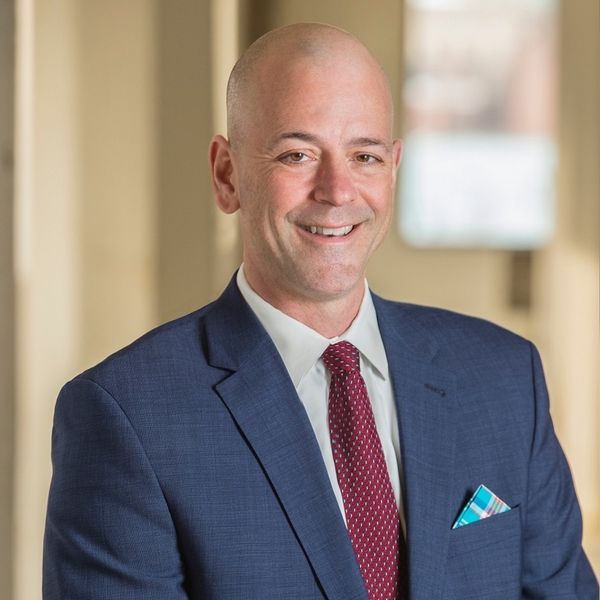 Meet alum and Ilitch spokesman Doug Kuiper
In a wide-open office space, with clean lines and exposed concrete and steel, Doug Kuiper's phone would not stop ringing. It was a Friday afternoon, and the world had woken that morning to the news that the greatest man to have ever called Joe Louis Arena "home ice" had died. Gordie Howe passed away on June 10, 2016, after the Joe had been sold and construction on a new arena for the Wings had begun. Just a few blocks away from the construction site, at his office in the Fox Theater building, Kuiper—vice president of corporate communications for Ilitch Holdings—fielded the media's phone calls.
As the top spokesman for the $3.3 billion company, Kuiper is responsible for the communications strategy across all of Ilitch Holdings's several entities—the Detroit Red Wings, the Detroit Tigers, Little Caesar's, the MotorCity Casino, and Olympia Development, to name a few. The latter is in charge of District Detroit, the ambitious new stadium and mixed-use developments surrounding it.
Kuiper's first marketing and communications work was concurrent with his graduate study in Wayne State's M.A. in English program, from which he graduated in 1997. Before night classes, he ran the marketing and communications office for the medical school's Psychiatry Department. His Master's thesis, meanwhile, was an exploration of the ways that social fragmentation gets physically rendered in postmodern fiction. What follows is a brief transcript of a conversation with Kuiper, lightly edited for clarity and concision.
It's why I went to Wayne State to begin with. I think those roots, as an urban institution, are so important to Wayne. It's so differentiating for the kind of experience that can be offered there.
Why had you sought out or decided on enrolling in the M.A. program at Wayne State?
After my undergraduate degree—it was a B.A. in English from the University of Michigan—I spent a couple of years working with delinquent students in Albion, Michigan, at a place called Star Commonwealth. It's a great organization, and one of their philosophies was that different kids will bond with different adults over different things. I was finding that a number of kids I worked with really bonded with me overwriting and reading and because they were younger, fiction in particular. So I had a great interest in pursuing what I thought at the time was going to be a career in teaching. And I had a wonderful opportunity to work in a communications office at the medical school. That's how I got started, but it was really based on a love for Detroit, a love for reading, and a love for writing. Wayne State presented and still presents, a great combination of all three of those things.
So the university job really set the course of your career then, no?
Yes, it did. Like any other undergraduate English major, I loved books and I loved reading and writing; what I wanted to do when I grew up, I had no idea. So teaching seemed like a logical opportunity, but I was sort of lucky enough to have the best of both worlds at Wayne—to work for the university in that capacity, but also get the academic rigor that goes along with an advanced English program.

That job was in a large department within the medical school, which is a large organization, but my office was kind of a one-man shop. I did everything you can imagine in terms of communications, from marketing to website development and content writing; writing what I guess they would now call content marketing pieces; traditional public and media relations; promoting ongoing research programs and the good work that the organization did for the community.
And then you worked for Compuware?
Yes, from there I took a job with Compuware, around the time they moved to downtown Detroit—which is why I was here in the first place. It's why I went to Wayne State to begin with. I think those roots, as an urban institution, are so important to Wayne. It's so differentiating for the kind of experience that can be offered there, compared to, you know, some equally great and wonderful experience in East Lansing or Ann Arbor, but different. And Compuware, they were making this transition from a sleepy business-to-business company to a corporate pillar of downtown Detroit. That was really important for me, both creatively and from a business sense.
Compuware, as business-to-business, was less public-facing than the medical school. So it was a different kind of writing. You're thinking a bit differently. But, you know, so many of these divisions people have made in these fields—it's all essentially the same thing: Are you an effective communicator? Do you understand your audience? Do you know what their needs and desires are? Can you craft a message that moves people to either think, behave or feel differently? The rest is about what channels you choose to reach your audience, but the skills are essentially the same: can you speak well?
The sort of skills that writing a thesis on postmodern fiction sharpens.
Sure. It may sound esoteric, but it's still a matter of defining and defending a point of view. It's about developing a point of view that takes into account all the other thinking that has been done, and the audience it's being delivered to. It's critical thinking. And those are skills that all became much, much sharper, for me, by participating in an advanced program at Wayne. No question. Those are skills I sharpened with the thesis, and from all of the other work—the critical theory, the literary criticism, even linguistics. Saussure and all of that. That stuff is meaningful because it does impact how you form your work. I still find tremendous value in that. I didn't think so at the time, but it's true.
You're also on the board of an organization called Reading Works. How did you become involved with that?
Before developing plans for the District Detroit project, we did an incredible amount of outreach in the community. We really, passionately want Detroiters to take part in this project, not just as consumers of an end product but to help in the building process. As we built that outreach, we found a ton of interest but a variety of roadblocks—a lack of transportation, a felony conviction in some cases, et cetera. Many of those things can be overcome through one program or another. But one of the most profound challenges is adult literacy. If you can't read, and if you can't do basic math, you can't be in a trade union. And the unions are desperate right now to sort of restock their membership as older members retire. There's a huge demand for Detroit-based tradespeople. So there's that gap, and we'd really like to help bridge that gap, helping people take the next step in their lives.
Speaking of employment—given the academic field right now, and the general obsession with the STEM curricula, is a graduate English or Creative Writing degree something you'd encourage your own children to pursue?
You know, I'm at the age right now where we're trying to save for our kids' college a lot. And I remember very clearly my dad—who was an engineer, not a liberal arts kind of guy—I remember him supporting my passion when I went into English. I think, ultimately, that's what my wife and I would want for our kids, for them to follow their passion. I would never, ever discourage someone from pursuing it. There's something about not just English literature, but anything in the humanities, that in many ways is really incredible to study. If you think about the "Great Books," those incredibly formative ones for our culture, and for any good citizen—and a huge credit to Wayne State in this regard—the critical thinking that's required to progress successfully in an advanced academic environment like that will serve you well in whatever you do. And I got that in bucketfuls at Wayne State.

By Dan Fenster (M.A. in English, 2016)