JYM alumni updates 2020
Share
JYM alumni share their favorite memories, where they are now and any advice for those considering going on the program.
Please feel welcome to send your updates to jym@wayne.edu.
Rita (Stephenson) Jacobs (JYM 1964-65), Aquinas College
"I absolutely loved living in the co-ed Oekumenisches Studentenwohnheim with students from 38 different countries, all with German roommates. Every day was a new experience and I loved waking up in the morning." Rita is a retired lawyer, now serving as Committee Manager of the Green Party of Michigan and officer of Peace Action and Banking and Monetary Reform Committees of the National Green Party. These are volunteer positions, as the Green Party does not accept corporate and PAC funding.
Rita's advice to prospective JYMers: "It would probably be the best experience of your life. It gave me confidence in my ability to succeed at more difficult educational and career goals."
Susan Henricksen Thompson (JYM 1975-76), Wheaton College
Also attended Middlebury College, Susan is now retired from a career with the Department of Defense. Her favorite memories were the Ausflüge to Schloss Elmau and Kloster Ettal.
Susan's advice to prospective JYMers: "Go with open arms and open mind! JYM fully changed my life and direction."
Sara Wanderer (JYM 1975-76), Purdue University
"The first six weeks where we spent a half day learning about German culture, going to West and East Berlin. JYM made a huge difference and opened career options significantly. I am been working for 30 years as project manager at Software AG, based in Darmstadt." Sara's advice to prospective JYMers: "Do it!! It's the best thing ever."
Cheryl Ann Elfond (JYM 1975-76), University of Michigan
"I am in Endwell, New York about 3 hours north of the city. I have lived in many states since 1998 when I went to Princeton for seminary and became a pastor for the Presbyterian Church (USA). I have served churches and also judicatories as Executive Presbyter (role of bishop but in Presbyterian Church): Ohio, Nebraska, Kentucky, Iowa, Minnesota and New York where I have been since 2006. I am currently serving a Lutheran church in a part-time basis while I phase toward retirement. I had started up a leadership and life coaching practice which has been on hold since I was struck and knocked down by a Jeep SUV (while on the sidewalk) and run over and had my left leg crushed. Lots of hardware and a lot of damage but I am walking and still rehabbing. In all of the work, I have used my German.
I completed the M.A. in German and Linguistics while teaching as a TA at the University of Michigan after JYM. I then took a break from academia and ended up in the counseling field and pursued the M.A. in counseling. Then, I was called into ministry and went to seminary for the MDiv and eventually a doctorate in ministry. Education will never stop for me! As a counselor, I had clients who only spoke German. As a student in seminary, I tutored the Ph.D. students who needed to pass the German proficiency exam. As a pastor, I have had German parishioners and have two German parishioners now! Also, in seminary, at the time I was studying many biblical academic studies were still only in German especially the Psalms and I was able to read and study the current scholarship. I have traveled around the world literally in 2015 and returned to Europe on many occasions including Munich. When we are free to travel again, I am sure I will be visiting friends in Goettingen and Munich and it would be delightful to visit JYM and meet the JYM leadership. The program was life-changing for me."
Robert Clarke (JYM 1977-78), UC San Diego
"Study abroad is the most important thing you can do in your college experience. A full year abroad is the key to that experience, as it has a rhythm and range of learning and emotional growth that a single semester cannot encompass." Robert also has a Ph.D. in German from UC Berkeley.
Juergen Barbusca (JYM 1981-82), University of Nevada
"It was great finally feeling brave enough to speak a new language, thanks to the confidence-inducing elixir that flows by the liter at Oktoberfest. I returned to Munich after graduation where I lived and worked for 10 years. I am currently taking a one-year, pre-Covid sabbatical from work and am traveling the United States in a van."
Juergen's message to prospective JYM students: "The study abroad experience will leave you with experiences you'll draw from for the rest of your life!
David W. Young (JYM 1984-85), Northwestern University
"The classes where we learned contemporary economics, language usage and poetry were my favorite. I had only a bare-bones knowledge of German when I came to JYM and my year abroad instilled in me both a love of European and German history and culture that carried with me, as well as a centeredness that I draw on when I am in new situations. I used my German skills in my time interviewing Holocaust survivors when I first moved to Philadelphia, which became my first training in public history. I received my Ph.D. in 2009 in History at Ohio State and have led historic sites and history museums in Philadelphia, Delaware and New Jersey. I currently serve as Executive Director of the Delaware Historical Society. For ten years I taught historic site management in Graduate Program in Historic Preservation at the University of Pennsylvania. My book, The Battles of Germantown: Effective Public History in America was published in 2019 by Temple University Press."
David's advice to prospective JYMers: "Bring your open mind and get to know people of other cultures. My year in JYM gave me confidence, poise and the ability to figure things out in situations that were new or challenging--all of which have greatly influenced my ability to become a scholar, teacher and non-profit leader."
Peter Shelby (JYM 1985-86), Purdue University
"I am originally from the US Midwest but have continued to live in Europe since my JYM days – mostly in France & Switzerland. Today I am a pharmacist working for the World Health Organization/UN and industry. Most of my work though has been in public affairs and building healthcare systems in the developing world. JYM & München had such profound effects on my life I have moved back and am living there again! Next time you're in town, please send me an email: baselpete@yahoo.com. Let's meet!"
Linda Ogden-Wolgemuth (JYM 1988-89), Johns Hopkins University
"I especially loved taking an exploration of German theater class and getting to attend live performances in addition to reading many plays and participating in discussions. I would never have been able to do this at home in such a concentrated way. It was a delight to go out two to three evenings a week with my friends and enjoy German culture in this way! JYM helped me to flesh out my coursework for my German Area Studies degree by offering diverse classes in a variety of fields. I also went on to receive my M.A. and Ph.D. degrees in German Languages and Literature. Although I do not directly use my degrees in my current work, I am so grateful for JYM for exposing me further to German culture and for introducing me to people who became my close friends for the last 30 years!" Since the fall of 2018 Linda has been joyfully serving as the Director of Education of Sunbridge Institute, a Waldorf teacher education program. She gathers yearly with some of the friends she met during her JYM.
Linda's advice to prospective JYMers: "Go. It will be challenging at times, but it is worth the hard work. Savor every experience and just try your best to learn about a culture different from your own, to get to know the people and to speak the language. Don't worry about making mistakes – just try and talk! And take advantage of every opportunity to meet new people and expose yourself to new experiences. You will come out a changed person and hopefully have a broader perspective on the world because of your time abroad."
Tom Connor (JYM 1991-92), University of Pennsylvania
"I live outside Philadelphia with my wife Jen, my daughter Julia and my son Brendan. I founded Apex Medical 25 years ago to design and manufacture primarily neurosurgical instruments. Speaking German has been very important for working in the medical device industry." Tom's advice for future JYMers: "I would advise students to try to immerse themselves as fully as possible with work, internships and German friends. The smaller commune buildings are also wonderful especially since you will have a German roommate."
Alexa-Sascha Lewin (JYM 1995-96), Wheaton College
Alexa-Sascha is now a feature film director. She says, "I'll never forget how supportive HP was of my film studies both at the LMU and at the Hochschule für Fernsehen und Film. He was instrumental in making that happen. And here we are, years later and I will be directing a German feature film!"
Alexa-Sascha will be returning to Berlin as soon as it is safe to travel and will be directing a German comedy on the Wiedervereinigung. She has promised to write JYM again once it is in process – plans to even offer an internship to a future student. View her work at alexasaschalewin.com.
Joel Hartter (JYM 1996-97), University of Michigan
"JYM was hands down, the best year of my college life. I recommend doing a year. I grew up. I learned to be independent. I learned to be outside of my comfort zone." Since JYM, Joel has worked all over Africa for the conservation of endangered species. He is now a professor at the University of Colorado. He is currently on tourism and recreation development for communities in the U.S. and lives just outside Boulder, Colorado. "JYM was one of the most formative years of my life."
Jamie Ushman Woodring (JYM 1999-2000), Wayne State University
"Being in München allowed such easy travel throughout Europe. I will never forget the man in the Teletubby costume peeing in the bushes of Köln during Karnival. Following a stranger who met us at the train station in Prague to an apartment, a small group of us could rent for the weekend. Oktoberfest! I also remember traveling the overnight train for a weekend in Rome. I am so thankful for the opportunities and lasting friendships that JYM gave me! I earned my bachelor's degree in German and became a middle school German teacher." Jamie's advice to prospective JYMers: "Do it!"
Renee Remy (JYM 2005-06), Truman State University
"During our year, Hans-Peter Söder had us translate our resume and create a German Lebenslauf. That document was super useful when applying for jobs in Germany. I got my job through JYM connections and was hired more or less on the spot. I just completed my 11th year teaching at a translation/interpreting school in Munich (Fremdsprachen Institut München). Rene's advice to prospective JYMers: "Don't over-analyze whether you should or shouldn't study abroad in Munich. Just do it. You won't regret it!"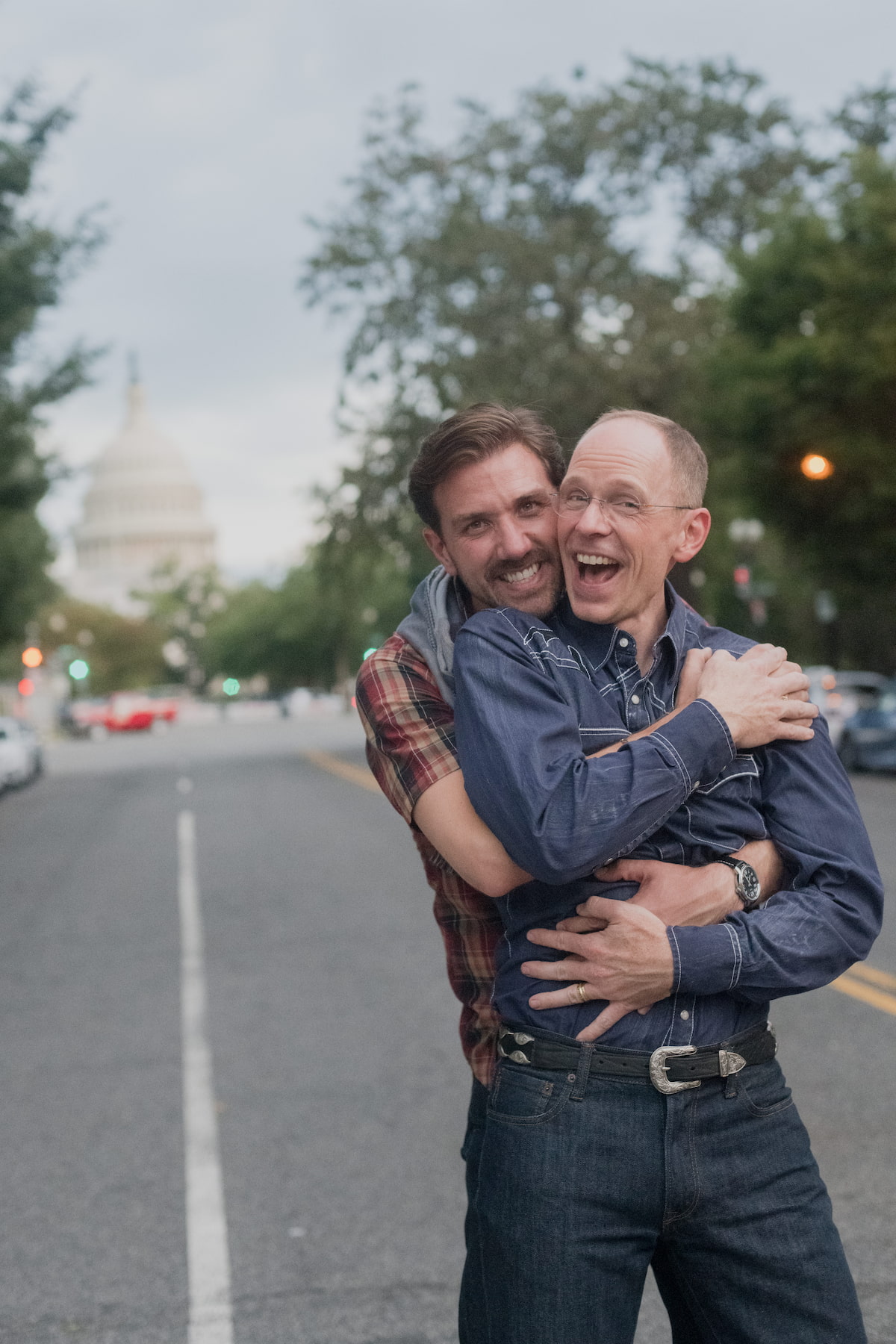 Adrian Safar (JYM 2007-08), Berea College
"One night a fellow JYMer knocked on my door and asked me to take him to the hospital. I borrowed a friend's car and took him. After translating for the JYMer and the Dr. and staying through his appendix surgery, it was proof I was doing well in German class. I am currently in the DC area. I recently got married to Christopher Hinkle on September 1, 2019, in Washington, DC."
Adrian's advice to future JYMers: "Do it as often as you can! Your family and friends, that love interest, sports, that once-in-a-lifetime job opportunity, etc.... will ALL be there when you return. Most importantly you will be a better person in those relationships."
Dallas Davis (JYM 2014-15), Grand Valley State University
Dallas just announced that he has been accepted to Virginia Tech for a simultaneous master's degree for fall 2020. He will be completing a master's of science in both urban and regional planning, as well as building construction science and management. Moreover, he has accepted a full-time assistantship with the Building Construction Science and Management Program, which will offset his tuition costs and help support him financially. He is very excited to have a new direction! JYM says congratulations, Dallas! Viel Erfolg!
Eva Spaeh (JYM 2014-15), Bowdoin College
Eva just graduated from the LMU this September with a master of science in epidemiology! She had specializations in clinical and environmental epidemiology. She's currently considering her next moves–planning is not so easy in these times. JYM congratulates Eva on her fabulous success and wishes her all the best for the future!
Abigail Iglesias (JYM 2016-17), Wayne State University
"One of my favorite memories is thinking about how close and unique our year's students were in 2016-17. Every class was a different combination of the small group but everyone offered such a different personality. And traveling together as much as we could was a real benefit. The Interkulturelle Kommunikation course at the LMU inspired me to begin learning Japanese. Progressing slowly but surely and I am likely to do a year abroad in Japan in 2021/2022!"
Abigail's advice to future JYM students: "Take the Goethe proficiency exam at the end of the year! You will likely return to Germany at some point :). You'll no longer be comfortable staying in one place."
Andrew Hesbacher (JYM 2018-19), George Washington University
Andrew is currently on a cross country bike tour in the US. He has stayed with some JYM alumni along the way. One was a fun chance encounter: "I just arrived in St. Louis a few days ago and was planning to stay with a JYM alum who ended up not being able to host me. Not a huge problem because of this website called Warm Showers, which is essentially Couchsurfer specifically for bike tourers.
I messaged at least ten different people and the first to finally respond yes also just happened to speak German. Once I arrived we got to talking and I mentioned that I studied for a year in Munich. He asks "Did you do Junior Year in Munich?" And because you pretty much don't know about JYM unless you did it, I respond with "Yeah, did you do Junior Year in Munich?" Somehow in this crazy small world, two JYM alumni found each other without even meaning to. Thanks to Alex Stoll (JYM 2007-08) for giving me a couch to crash on!" To follow Andrew's adventures connect with him on Facebook – he is a member of the FB alumni group."
Riley Miller (JYM 2019-2020), Grand Valley State University
"I loved my lectures at LMU. Being the only foreigner in a lecture room of just Germans was definitely a thrill at first. The initial anxiety about interacting with a bunch of other well-educated, smart Germans is intimidating when you're not quite able to convince them you're just as good. Through time, people began warming up to me and finally welcomed me fully. It was a step outside of my comfort zone, but being home amid the coronavirus, I'd do anything to have even a simple (dare I say mundane) experience in Munich again. JYM solidified my interest in learning and understanding the German language and culture. It's convinced me that a career path in German-American relations is where I'd love to start on my career path. Besides the professional side, it's where I've found meaningful connections with Germans and others from around the world (Erasmus students)."
Riley's advice to prospective JYMers: Embrace every single moment, even the boring or uncomfortable ones. You're guaranteed a return to the U.S. in the end, but you're never guaranteed a return to Munich. If the financial side of the program is off-putting, it helps to look at JYM as an investment in your language, connection and friendship building. It may help to show off what skill sets you've learned in Germany, even if you decide on staying in the U.S. for your career."