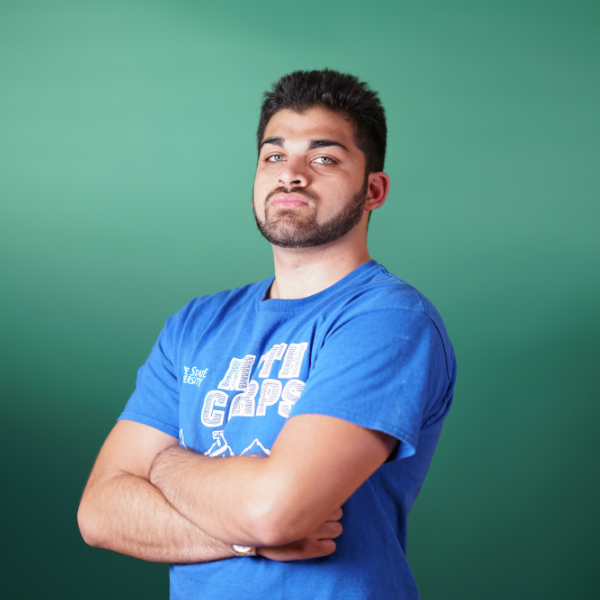 From doctor to math teacher: Mohammad Kang heals people his own way
It's funny how life throws a curveball when you least expect it. For Mohammad Kang, who graduated this spring with a bachelor's in mathematics with university honors, that curveball came during his first year at Wayne State, which ultimately lead him down a path towards a life-changing decision — from earning a medical degree and becoming a doctor to a degree in mathematics and a passion to teach.
The decision to come to Wayne State was all about following his father, who works at the Detroit Medical Center, and becoming a doctor. However, it was during his Honors Political Science 1010 class that he discovered his passion for teaching.
Students spend time doing community service as part of the course, so he volunteered with Bridgepointe, a nonprofit organization that partners with schools in southwest Detroit to tutor students in various academic fields. He was scheduled to tutor at Academy of the Americas Elementary-Middle School.
Kang said he had second thoughts when pulling into the parking lot for the first time.
"It was in an area I was unfamiliar with, that southwest Detroit area. I had never worked with kids, period, before. I had never done any kind of community service like that in high school," he explained. "But I went in, and that first time I worked with a student who spoke Spanish and just loved it. I just remember the look he gave me when I started speaking a little Spanish; it was priceless."
The experiences he gained at Academy of the Americas started his love for teaching, but his passion for teaching math came from an unexpected source — a Calculus 2 class with Leonard Boehm.
One day, after losing track of time and arriving 30 minutes late for his Calculus 2 exam, Boehm spotted Kang's Academy of the Americas volunteer nametag he left on his shirt. He spoke with Kang after class and told him that he teaches math classes to fifth graders at Academy of the Americas every day before coming to Wayne State.
A bond was formed between the two that extended well beyond Calculus 2. This year, he and Boehm went back to Academy of the Americas and co-taught a sixth-grade math class, an experience he called "surreal" and "priceless."
Additionally, Boehm had a profound impact on Kang and his teaching style.
"When I took that course with Mr. Boehm, I was blown out of the water," he said. "Just the way he taught — he would tell jokes on the side about the math, go more in-depth into the problems — he just made it so cool. He made our class so closely knit. We were like a family."
"It wasn't about right or wrong. It was about cool ideas," Kang further explained. "If you had a cool idea, whether it was right or wrong, he would put your initials in the star that he drew on the board at the start of class. But it's never about being right or wrong…it's about bravery to offer your ideas. You get people saying kind of quasi-poetic stuff in in a math class, and me being really into philosophy and stuff, really latched onto his class."
He later learned Boehm used the same teaching style with students in the Math Corps program, which the kids love, as well as his college students.
Kang said it was Boehm who encouraged him to apply to be a college instructor in Math Corps, which was started by Boehm along with director of the Center for Excellence and Equity in Mathematics Dr. Steve Kahn and Bessy Duncan.
In addition to teaching in Math Corps, Kang also volunteers in the Downtown Boxing Gym's "Books before Boxing" program. The Downtown Boxing Gym opened its doors in 2007 in order to teach kids valuable life lessons inside and outside of the classroom and the boxing ring. According to its website, by providing mentorship, tutoring and basic needs support for their students, the program is are able to create a lasting impact with a ripple effect in its community.
Kang tries to emulate what Boehm did in the class when he teaches.
"We did songs. I was dancing. I was all over the place," he said. "I remember after that first day I was sweating profusely because I was just jumping around, and they loved it. And at the end, I said, 'You know what, I am going to give 100 percent to you guys. No matter what, you are always going to get 100 percent of me.'"
Even though the students, according to Kang, were resentful at first about the idea of being in an afterschool math class, Kang's willingness to fight for them and believe in them helped turn the class around. By the end of the semester, some of the students were coming up to him after class asking to do even more math.
He fondly remembers one student named Jordan, who was vocal about not wanting to be a part of the class, to the point of slamming the classroom door behind when he entered the room. Kang realized at that moment he needed to fight for him, so he sat Jordan down and told him that he cared about him, that the student was needed in the class and that Kang wanted to see him "shine as the intelligent kid he (was)."
Kang said the student wound up responding to the talk and flourishing the rest of the semester, both inside and outside of the school.
"He's a perfect example of how we always try to teach kids, but really, they wind up teaching us," he said. "Jordan gave me a voice that day because I was once that kid who felt strong enough to fail but with just enough talent to come into my own. In that way he gave us all a voice. We're all beautifully gifted and talented in our own ways, and in all the other ways, we're good enough."
He said that it was the idea of communicating with them that you care.
"If you really look them in their eyes, they can tell you really care about them. If you are somebody that really cares for them or if you are just there for a check," Kang added. "They can smell a fake. It is this constant idea of communicating with them that you care, in verbal ways, non-verbal ways, calling homes saying 'Hey, you did an amazing job.'"
Kang even said that the background image on his phone is a drawing that one of this students did. The drawing states, "Don't give up. Keep pushing your limits."
This summer, Kang is interning at Mercedes doing data analysis. Once he returns to Wayne State in the fall, he will be a graduate teaching assistant in the math department while pursuing his master's in mathematics. Even with such a busy schedule, Kang still plans on teaching at the Downtown Boxing Gym. He eventually would like to get his Ph.D. in mathematics and continue to teach college students and children in Detroit.
How does he justify his decision to people?
"I was like, I want to heal people, but I found out that (being a doctor) was not my way of healing. Teaching was my way of healing," he said. "I think that so many careers are about healing people in our own unique ways because we are all gifted and talented in our own ways and all the other ways we are good with."
This article originally appeared at honors.wayne.edu.