WSU Math Corps successfully operates virtually
The Wayne State University Math Corps began as a purely humanitarian effort to simply "do something" to help kids in Detroit. In 1992 these efforts crystallized into what has become a nationally recognized and award-winning mathematics and mentoring program, built around a six-week summer camp for Detroit public school students.
From the beginning, the Math Corps has worked to provide Detroit's children with the kinds of educational and life opportunities that all kids deserve. In a city where the obstacles to success are so daunting, the Math Corps has always been about making a difference and changing lives.
The 2020 Math Corps Summer Camp was like no other camp in the history of the program. In the midst of a global health crisis; in a city disproportionately impacted not only by the virus but by its economic fallout; and in the aftermath of the killing of George Floyd; it was clear our kids needed us now more than ever. Faced with this dire need, the challenges that the program would face in trying to convert to a virtual one, paled in comparison to the overwhelming imperative to be there for our kids.
After three months of quarantine with almost no schooling, our kids deserved a chance to learn and engage with their peers again, to feel supported and cared for again, to feel like - despite the state of the world - their futures matter. Extraordinarily generous and timely gifts from the Vinnie Johnson Foundation and Wayne Metro allowed us to clear the considerable obstacles that make remote learning difficult for kids in underserved areas such as Detroit - providing not only devices, but internet access to all of our participating middle-school, high-school, and college students. Generous contributions from Fiat Chrysler Foundation, DTE Foundation, General Motors, the WSU Office of the Provost, the Detroit Pistons, Matilda Wilson Foundation, PNC, Masco, Henkel, Diversified Chemical Technologies, Eagles for Children, and several private donors provided overall operational support.
After weeks of planning and prepping, our 400 students were able to experience a full 6-week Math Corps Summer Camp - provided remotely - Mondays through Thursdays from 8:30 a.m. to 1:30 p.m., beginning July 6 and running through August 14. Grade-level content was delivered through newly created Math Corps instructional videos, and one-on-one tutoring was facilitated through daily team time Zoom calls and breakout rooms.
Students and their mentors were not only able to connect with one another via the devices, but they were able to use the tablets each day of the camp to work on problems together, writing directly on the screens using the touchscreen features. The program utilized multiple platforms to facilitate the daily events, including YouTube, Zoom, and Google Classroom.
A typical day in the virtual camp included a morning Assembly, Team Time (one-on-one tutoring with TAs), and Afternoon Activities, which included Poetry, Bridge Building, Probability, Chess, Magic (math-related card tricks), and Coding. The students were given daily homework as well as opportunities to get additional tutoring throughout the day. In addition to tutoring and mentoring middle school students, our high school students also attended their own virtual classes which included Algebra 1 and 2, Introduction to Calculus, and/or Functions.
On Fridays, students were provided with optional activities that could attend (virtually). These activities included Baking, Game Day, Volunteer Day, Indoor Sports Day, and the greatly anticipated annual Math Corps Talent Show. The summer ended with a virtual Closing Ceremony for each site, in which students and families joined with staff to celebrate the students' commitment and accomplishments during this unprecedented summer.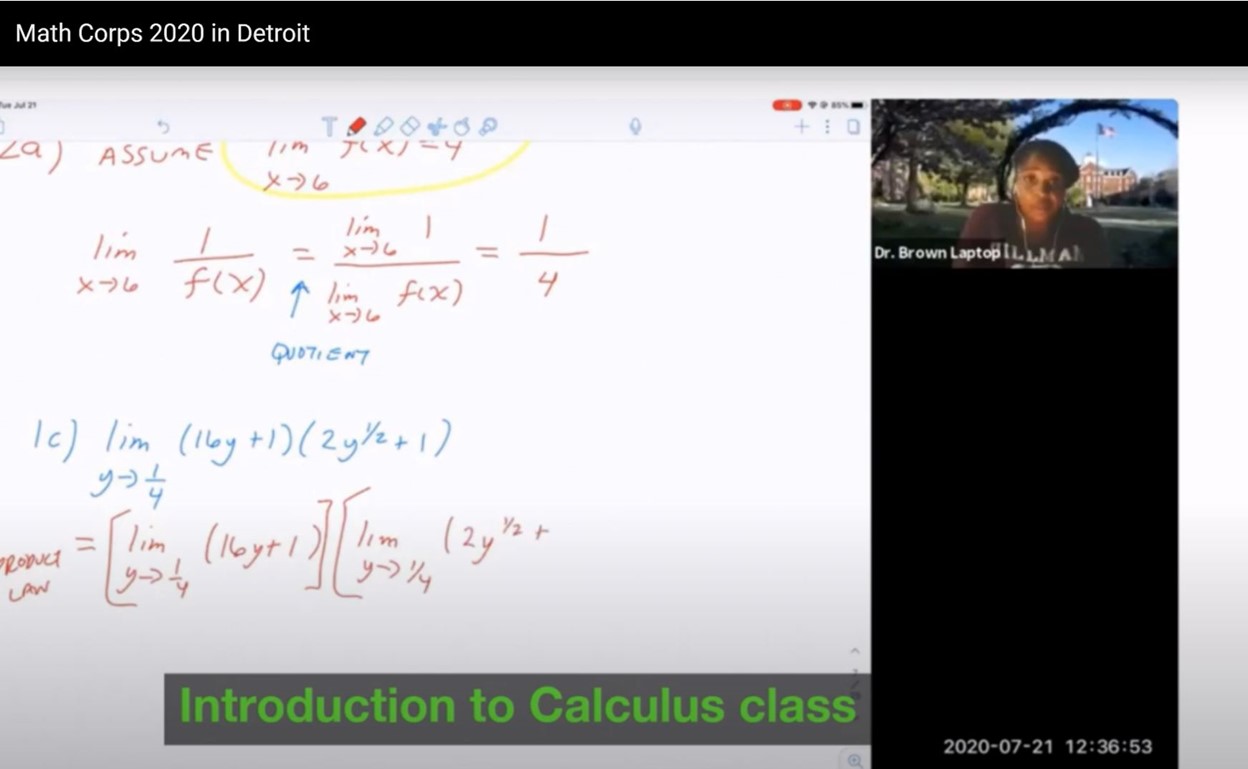 Remarkably, the program's 2020 results (detailed below) were similar to previous years.
Pre- and post-test scores (medians)
7th grade: Students increased from 35% on the pre-test to 88% on the post-test
8th grade: Students increased from 35% on the pre-test to 83% on the post-test
9th grade: Students increased from 38% on the pre-test to 73% on the post-test
Other class metrics
Average attendance rate: 94% of students attended the program daily
Program evaluations: 88% of students rated the program with an A (58%) or B (31%) on the end-of-year surveys
Student completion: 96% completed the entire 6-week summer program
Finally, Math Corps' expansion sites in Cleveland, Philadelphia, Utica NY, and the University of Michigan at Ann Arbor all ran successful programs, providing their kids with a rewarding summer. Armed with the new experiences and skills developed by migrating our program to a virtual setting, the Math Corps plans to continue to expand both its capacity and its impact in the metro Detroit area and nationally.
For additional information about the Math Corps program and how to apply for future summers, please visit the Math Corps website at mathcorps.org or email us at mathcorps@wayne.edu.