WSU Math Corps 2021 continues to care about kids
Share
In the summer of 2021, the COVID-19 pandemic had been ravaging the city of Detroit for a year and a half. For the city's children, it was all about loss. Our students suffered educationally and were burnt out from online learning. They were socially isolated and disconnected from their peers. Compounding the issue, was the stress of seeing the people around them falling ill or even dying.
In the months leading up to camp, the pandemic's effects were evident. Our students couldn't handle any more virtual learning. Emails came pouring in from previous students expressing the status of their mental health and the need to step away for a summer. Some of our kids, along with the majority of students in DPSCD, had to attend mandatory summer school and caused low enrollment in the camp.
An excerpt from one such email from a high school student read:
"…I need to decline my TA summer position with Math Corps. The last school year has been trying on my mental and physical health. I feel that everyone is feeling a lot of burnout, and taking a look at my commitments this summer I realized it is too much considering the pressures of this year. I wish that Math Corps was not the opportunity I needed to let go, as I have enjoyed the program so much, but it is a time and virtual commitment very reminiscent of what I have done throughout the school year, which I feel has really severely impacted my mental health. If I felt I could prioritize the commitment despite my mental health, I would jump at the opportunity. Even though I am unable to participate, I wish the best for the summer program this year."
Given the state of education in Detroit, tragically, the Math Corps has always been about getting kids caught up to grade level and beyond. While our numbers were lower this year, with the support of our partners, the Math Corps did what it's always done best – care.
The week before camp started, torrential rains caused widespread flooding in Detroit, which shut down Wayne State University and all campus operations. We were forced to cancel our supply distribution events, but it wasn't enough to deter us. We packed up our students' supplies, hauled them to a nearby parking lot, and made sure our kids had everything they needed to learn math this summer.
The virtual format of the camp allowed for new ways to connect with our partner sites. Cleveland State University Math Corps, also suffering from low enrollment, merged with our second Detroit campsite, and brought wonderful students, staff, and vibrant traditions. Our high school courses were shared across sites and enabled high schoolers from multiple cities and states to learn together. We diversified our afternoon activities and offered our middle school students the opportunity to select electives twice a week based on their interests. Our electives included Arabic, cooking, coding, comic book club, dance/fitness, discovery math, music, poetry, and photography.
Midway through the camp, covid restrictions eased and we were able to hold three in-person Fun Friday events on the IM Field. After nearly two years apart, the joy of being able to get together was tangible. Our partners at PepsiCo donated healthy snacks and water for our students and Eat up Meet up provided three breakfasts and three lunches for each student that came.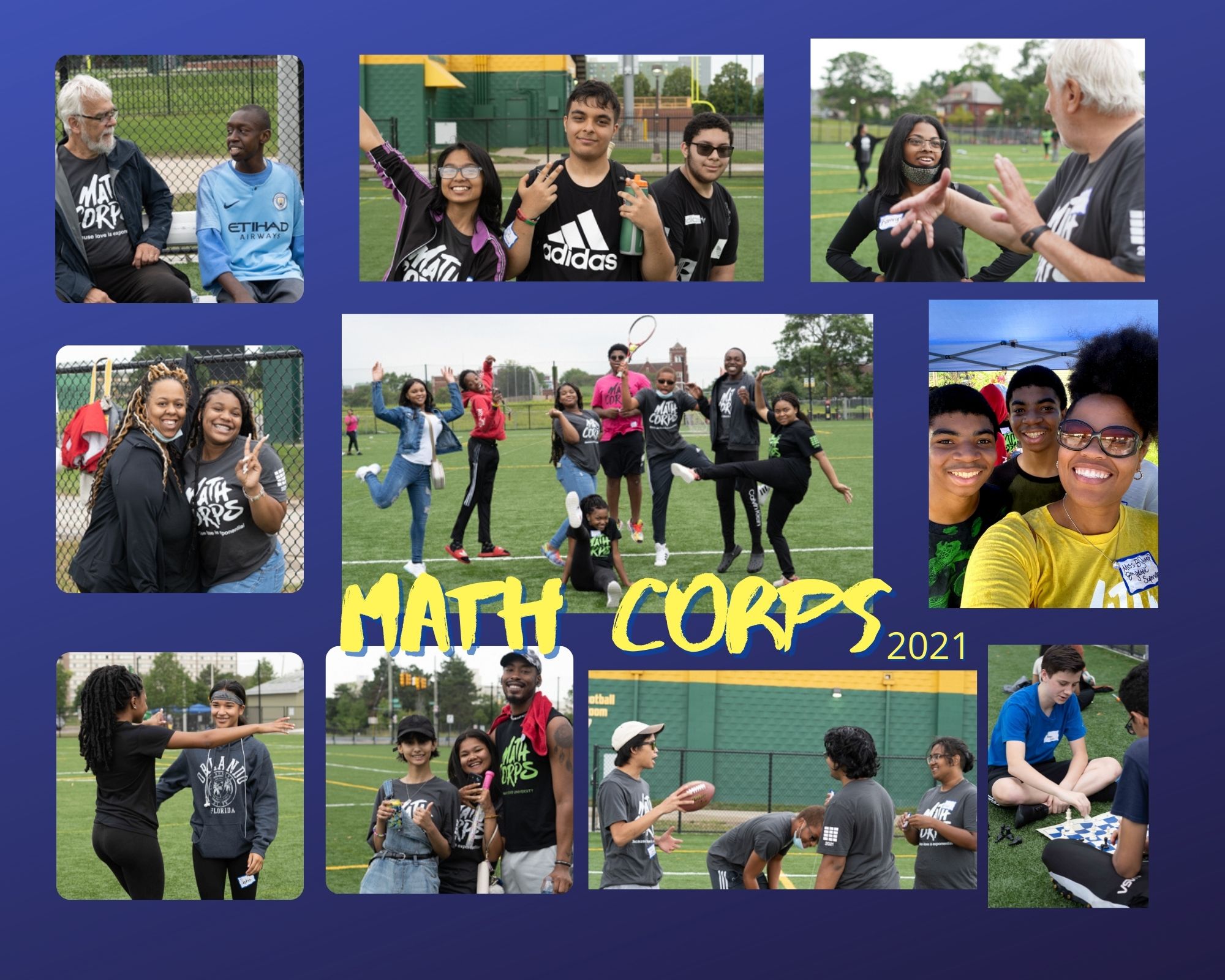 As always, the real magic of the program comes from the kids themselves. They demonstrated their greatness repeatedly this summer as they worked to learn mathematics, by demonstrating their courage and speaking up in front of hundreds of Zoom boxes, and by supporting their colleagues each day of camp.
2021 Detroit results
Student Participation: This summer, over 200 middle and high school students across our two sites participated in our 6-week summer camp
Post-test scores (medians)

7th grade: Students increased from 27% on the pre-test to 75% on the post-test
8th grade: Students increased from 27% on the pre-test to 79% on the post-test
9th grade: Students increased from 28% on the pre-test to 71% on the post-test

Average attendance rate: 93%
Program evaluations: 97% of students rated the program with an A (69%) or B (28%) on the end-of-year surveys
Retention rates: 79% of our students were returning from previous years
Student completion: 91% completed our entire 6-week summer program
Expansion sites
University of Michigan, Oakland University, Drexel University, and Cleveland State University all ran programs as well. Cleveland State joined Wayne State's Site 2 virtually. As was the case in Detroit, enrollment was atypically low but similar to Detroit, virtually all students made significant gains in math proficiency. For example, at U of M, test scores increased from 38% on the pre-test to 61% on the post-test in five weeks. Oakland University's test scores increased from 30% to 74% in four weeks.
For additional information about the Math Corps program and how to apply for future summers, please visit the Math Corps website at mathcorps.org or email us at mathcorps@wayne.edu.