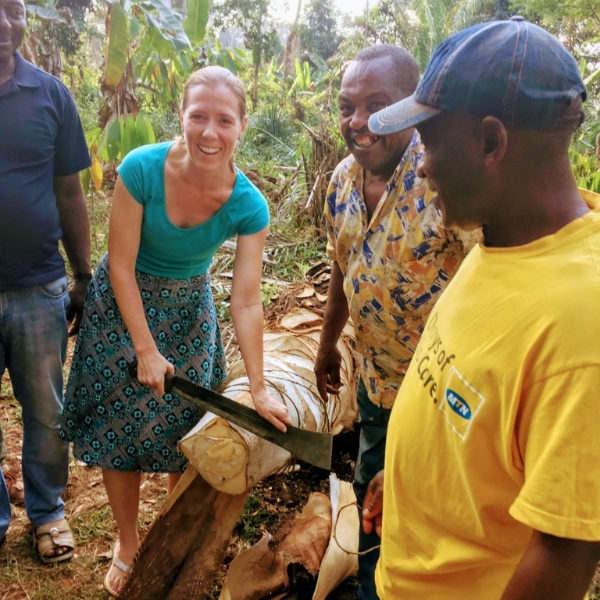 Shannon Yee, field linguist and documentionist in training, from Detroit to Cameroon
Ever since 2017, our M.A. student Shannon Yee has been an active field linguist involved with the documentation and development of the Swo language spoken in a village in Cameroon. She has been working on the writing system and the grammar of Swo.
Shannon has been presenting her works at various national and international conferences; for example, she will present her work, Minority language orthography and literacy: a case study of Swo in Cameroon, online at the 10th World Congress of African Linguistics (June 7 through 12). Then what brought her into the field of language documentation and how our Program has helped her pursue her academic goal? And what does real-life fieldwork look like? Here is Shanon's story.
My route to doing fieldwork in linguistics has been a long and winding one. As a high school student in Livonia, MI, I really enjoyed math and foreign language courses and so I started to study International Business, but quickly found that business was not a good fit. It was the international aspect that interested me. It was also important to me to do something that makes a difference in people's daily lives. I was able to find work teaching English as a Second Language (ESL), applying my undergraduate degree in linguistics.
Yet, after teaching ESL to children and adults for many years, I was ready to really dive into the international aspect that first tempted me. And while I loved teaching and the relationships with my international students, I also love exploring and discovering new patterns, puzzles and places. At some point, I heard about oral and minority languages and this was fascinating to me. As I learned more, I became very interested in language documentation and development.
As a person of faith, I am also motivated to share the hope that I have with others. So, I pursued an internship with SIL in Cameroon. This allowed me to be a part of linguistic fieldwork firsthand and to see that I loved it. This experience also revealed my need for further training, which led me back to the Detroit area.
Currently, I am back in Yaoundé, Cameroon where I am translating previously collected texts from a northern language community into English. I will hopefully begin eliciting new sentences, stories and grammaticality judgments soon.
The new research will likely be done over WhatsApp if in-person meetings remain impossible. Whatever the method of data collection, I use a variety of software, such as Fieldworks (FLEx), SayMore and PRAAT to help with organization and analysis.
Words and sentences are transcribed digitally in the proposed local writing system as well as phonetically using IPA with glosses in English and/or French. The coursework in Field Methods with Dr. Staroverov was very much like the real thing for me, complete with remote elicitation and the write-up of findings and results.
The description of the syntax and sound systems provide concrete tools for the community to use in further language development including mother tongue education as well as documentation of the national languages in Cameroon.