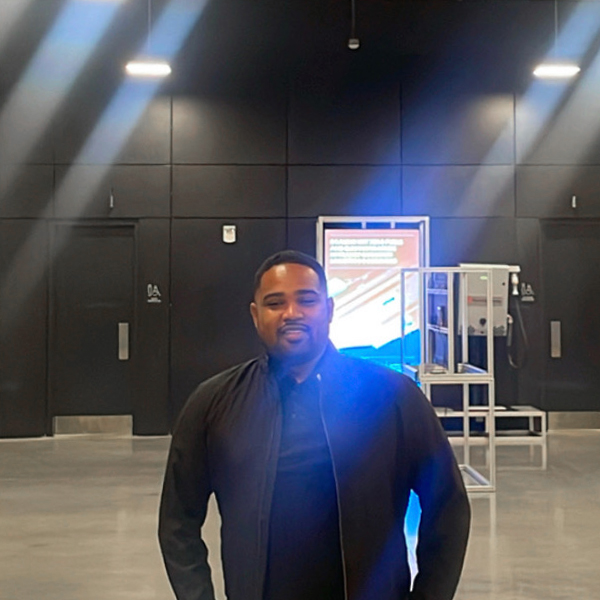 Alumnus Darrell D. Marshall takes on infectious diseases through detection
It's been five years since our interview with Dr. Darrell D. Marshall, an esteemed alumnus of Wayne State University, receiving a B.S. in Chemistry (class of 2011) and a Ph.D. from the University of Nebraska Lincoln (2016). In the time since, Dr. Marshall has been hard at work building his company Total Analysis, located within the transformative Newlab Detroit housed within the restored Book Depository building. This iconic 1936 architectural marvel, conceived by Albert Kahn, has been rejuvenated into a nexus of innovation and technology on the Michigan Central campus.
Let us take a brief retrospective journey. In 2018, Dr. Marshall received the ASEE/NSF Small Business Postdoctoral Research Diversity Fellowship. This aligned him with MSTM Solutions, LLC at Wayne State University, which acted as his host company. Co-founded by Distinguished WSU Chemistry Professor Sarah Trimpin and Dr. Charles McEwen. "Working with my mentors Sarah and Chuck was vital for my professional devolvement and understanding of navigating the startup world," says Dr. Marshall.
Under Dr. Marshall's leadership, Total Analysis secured a prestigious Small Business Innovation Research (SBIR) grant phase I from the National Science Foundation (NSF). The SBIR grant is highly competitive funding has been historically even more elusive for underrepresented founders, especially those without a major institution behind them. Dr. Marshall, a bioanalytical chemist, is focused on detecting environmental toxins and infectious diseases at the point of care. The company is developing a device to aid in the fight against infectious diseases through detection.
The escalating demand for fast and precise disease diagnoses has prompted Total Analysis to take action targeting governmental bodies, prominent municipalities and corporate entities as partners in the realization of robust detection mechanisms to monitor outbreaks.
Simultaneously, Dr. Marshall's unwavering commitment to community outreach and fostering the growth of underserved youth within the city. As a proud graduate of Detroit's Cooley High School, Dr. Marshall has forged a strategic partnership with superstar educator, Dr. Leron Lightfoot, and Math4Success to advance diversity within STEM disciplines. They've worked with over 1000 kids on STEM programming and for three consecutive years, have run STEM summer camp – an immersive experience encompassing the realms of mathematics, chemistry, coding and essential life skills. Dr. Marshall plans to integrate budding scholars from underrepresented communities into his scientific laboratory, catalyzing a transformative educational journey.
Additionally, Dr. Marshall is active in Detroit's Tech ecosystem. He routinely attends a network community named Black Tech Saturdays, helmed by visionaries Johnnie and Alexa Turnage. This pivotal platform has kindled transformative disruptions within Detroit's black tech community, fostering access and opportunities. Dr. Marshall has found resonance with fellow tech entrepreneurs, innovators and investors within this ecosystem. The networking convenes each Saturday promptly at 1 p.m. at Newlab Detroit.
Dr. Marshall envisions a world in which epidemics and pandemics are a thing of the past. He plans to aid in this vision through transformed research while maintaining equitable access to the resulting products. "Change is incremental. It's not going to happen fast," says Darrell. Grounded in this belief, he's committed to making Detroit's next great biotech hub and exemplifies steadfast dedication. As we peer into the horizon, anticipation swells regarding the monumental strides Dr. Marshall is poised to undertake. The future is bright.