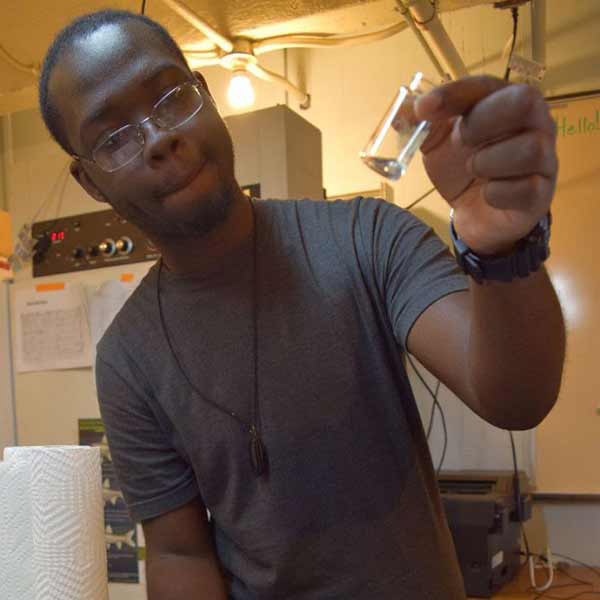 Biology student spends summer researching on Belle Isle
Some college students spend their spring break lounging on sunny beaches. This year, Xavier Walker spent his digging through pond muck and dissecting water mites.
"It took me three hours to work on just eight mites," he says. "It was exceptionally frustrating."
The Wayne State University rising sophomore specializes in muck these days. Walker is a research assistant in WSU School of Medicine professor Dr. Jeffery Ram's aquatic research lab, located in Belle Isle's historic aquarium. It's here that he'll spend much of his summer, wading through the lakes and lagoons of Detroit's island park, searching for new water mites to poke and prod.
Walker, 19, is helping Adrian Vasquez, a Ph.D. candidate in Ram's lab, examine traces of DNA left in the mites' digestive systems. Specifically, they're looking to find what the mites eat to determine whether they compete with fish for food and also reduce insect pests, such as mosquitoes, by eating their larvae.
While many Wayne State students have the privilege of researching in elite labs, few find themselves co-authors in scientific journals during their freshman year. Walker's name will accompany those of his fellow Ram Lab researchers on an upcoming article in the Transactions of the American Fisheries Society. The research focuses on a separate study examining the bioinformatics of gars. During that project, Walker helped analyze the genetic codes of freshwater gar and even contributed some genome sequences to a national database.
An honors student studying biology, Walker first met Ram during an assignment for one of his ReBUILDetroit courses. ReBUILDetroit is a National Institutes of Health-supported program that guides students from underrepresented backgrounds as they pursue biomedical careers.
The students had to interview a faculty member to learn more about research. By the end of the interview, Walker had secured a spot working in Ram's lab alongside several seasoned researchers.
Driven by a personal connection, Walker also aspires to be a scientific researcher. When he was young, his aunt was paralyzed in a skiing accident; her plight inspired him to pursue a career in biology. He hopes to one day work with stem cells or explore ways to use plants medicinally.
"Having this early introduction to research has given me certainty about what I want to do in the future," he says. "It's also deepened the information I've learned in the classroom."
Looking back, Walker is astounded at the academic and personal progress he has made in the past year.
"I never imagined I would be in this position after only one year of college," he says. "I thought I would be just sitting at home or going to class. I never dreamed I would already have spent so much time working on real research."
Walker firmly believes any student can make the most of their college experience by simply getting out of their room and talking to people. "There's so much to experience at Wayne State," he says. "You really need to get out there and take advantage of it."