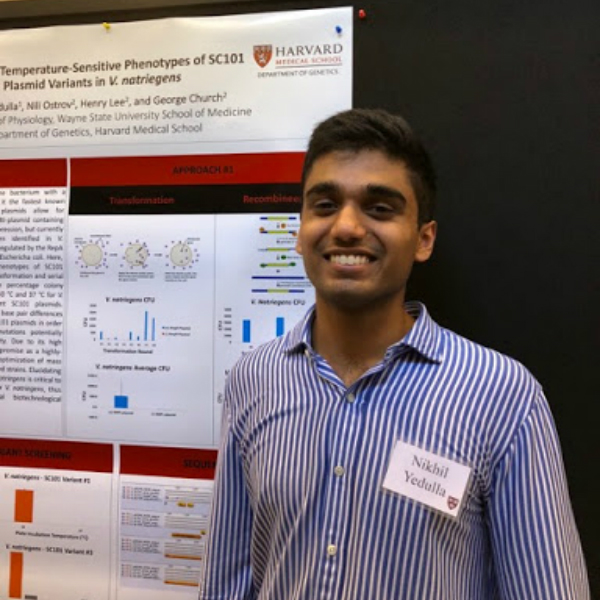 Biology student gets experience of a lifetime in Harvard research lab
Wayne State pre-med student Nikhil Yedulla participated in the Harvard-Amgen Scholars Program this past summer, a highly competitive research program for undergraduate biotechnology students. Twenty-two students from around the country participated in the 10-week research program that focuses on preparing the next generation of scientists for success, according to the website.
"Working in the lab was an incredible experience," said Yedulla. "It was great to have guidance from highly-supportive mentors and at the same time interact with a large community of accomplished researchers in the lab."
World-renowned faculty worked with the scholars to provide firsthand experience conducting research in biotechnology at Harvard. Yedulla's area of interest includes integrative cell and tissue physiology.
"My project investigates Vibrio natriegens, which is the fastest known dividing bacterium," Yedulla explained. "I utilized genetic engineering and microbiology techniques in order to further elucidate V. natriegens' biomedical applications."
The program encourages students from diverse backgrounds to apply as part of an effort to diversify the biotechnology field. Students participate in seminars to learn about different opportunities after graduation such as graduate school, academia and entrepreneurship.
"This experience has allowed me to broaden my research interests and sharpen my scientific thought process," said Yedulla. "I am confident that this has prepared me to be an independent investigator going forward."
Yedulla currently conducts research in Dr. Bhanu Jena's lab in the department of physiology at the WSU School of Medicine and has been there since the fall of his freshman year.
"My main project investigates the effects of the widely-prescribed anti-epileptic drug on insulin secretion in beta-cells," said Yedulla. "I recently published a first-author paper regarding this work in Histochemistry and Cell Biology."
Yedulla is currently a senior at Wayne State majoring in biology and economics. He plans to attend medical school after graduation and wants to continue his research during medical school and as a practicing physician.
"I came to WSU because I was offered a seat in the MedStart program and I thought it would make for a unique college experience going to school in Detroit," Yedulla said. "Especially now that the city is in the midst of a resurgence and so much is happening."
Written by Melanie Barnett, Marketing and Communications Associate