Students gain new perspective during Inside-Out Prison Exchange Program
Share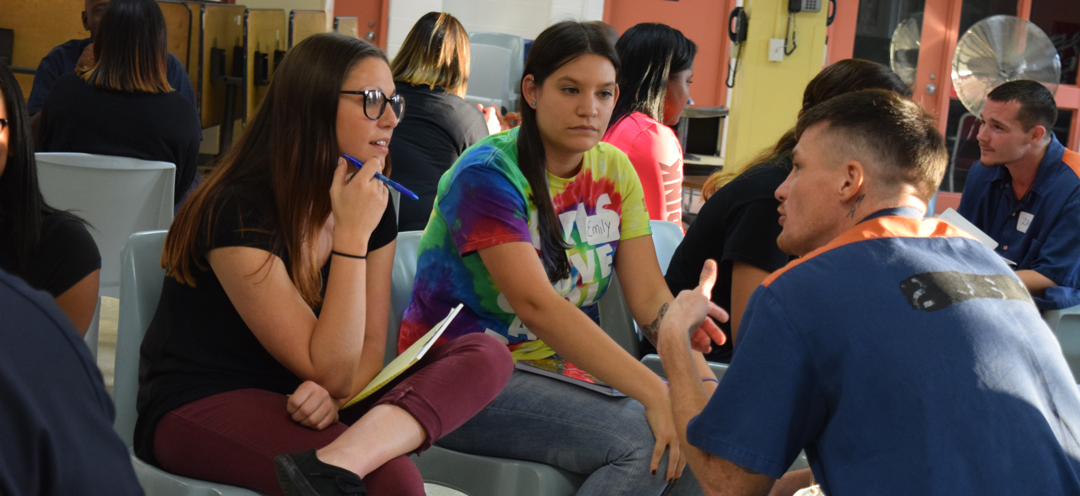 On an abnormally steamy September evening, 11 young women walked into a prison on Detroit's east side. They weren't there to be processed or clock in to work, but for college credit. They are Wayne State University criminal justice students and this was their first day of class.
The group is the first cohort of WSU students to participate in the Inside-Out Prison Exchange Program. This international program brings traditional college students future prosecutors and FBI agents together with prison inmates for a semester-long course to explore issues of crime and justice from behind prison walls.
The Wayne State course takes place at the Detroit Reentry Center a prison facility that works to reintegrate inmates into society.
In addition to the fact that it's held within the walls of a prison, this isn't your typical course. The class, Demystifying Mass Incarceration, is taught in a dialogic teaching model where students engage directly with each other through discussions. Students sit face-to-face as they share their own experiences and frustrations with the justice system.
"In this setting, I'm more of a moderator," says Wayne State University criminal justice lecturer and course instructor Ebonie Byndon-Fields. "I'm there to facilitate discussion and create an atmosphere where the students are comfortable opening up to each other. There's a certain amount of inward reflection that's necessary to get to the root of what this course is about. In the end, both our 'inside' and 'outside' students are the ones teaching each other."
To the "outside" students, this is more than just another course to check off on their path to graduation. "This class gives me such a sense of empowerment," says Olivia Haas, a senior criminal justice major. "The things we talk about make it seem so realistic that we can change the system for the better. Sometimes it feels like we have mountains to move, but this experience makes that seem possible. Maybe not today or tomorrow or even in five years, but one day."
WSU psychology student Kiristen Hubbard says she's walking away from this experience with both a story and a reason to keep working toward her own goals. "Not only am I gaining a story of my own to tell, but I'm also leaving this class with the inmates' stories," she says. "These guys have been knocked down so many times, but this has been their opportunity to stand up and share their perspective. I feel like I owe it to them to succeed and take that with me."
According to Byndon-Fields, these are the types of experiences the program was designed to create. "Inside-Out is about taking a broader look at the issues surrounding incarceration," she says. "The conversations and connections we make here are designed to breakdown the misconceptions and stereotypes about what it means to be incarcerated and bring out the humanistic aspect of these individuals. Through this course, we're crossing social barriers and ultimately creating more empathic future justice professionals."
To learn more about Wayne State's Inside-Out course, visit go.wayne.edu/InsideOut-Course.