Just Poetry event offers different perspectives of incarceration
Share
Wayne State's criminal justice department will be hosting their first Just Poetry event from 7 to 9:30 p.m. on Feb. 23 at Marble Bar to shed light on the many ways the criminal justice system impacts individuals. Poems that have been written by local poets, police officers, people who have been impacted directly and indirectly by incarceration, and WSU community members will be shared to provide multiple perspectives.
This event will provide a uniquely personal look at the justice system by allowing those affected by it a chance to share their feelings and experiences through poetry. Participants will read a poem they have written in response to one of three writing prompts found on the event's
webpage
.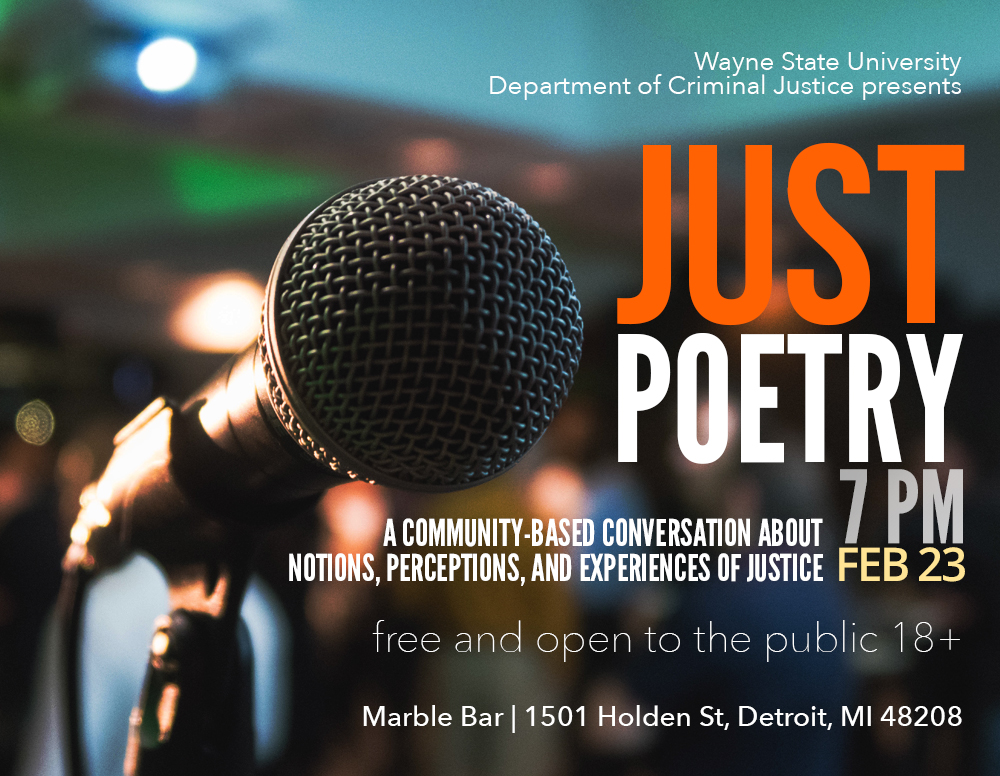 After all of the invited poems for a particular prompt have been shared, there will be a panel comprised of both well-known local poets and individuals who are in some way connected to the criminal justice system. They will contextualize the poems, their meaning and the valuable lessons within each. They then will engage with the audience, asking questions to start a conversation.
The only way to effectively address the misunderstandings is to bring people together to share and reflect.
"Understanding the emotions, experiences and goals that shape people's perception of justice is critical, so creating a platform enabling people to connect in that way was a goal in planning this event," said Leah Ouellet, who is co-organizing the event. "If a handful of people leave having a deeper understanding of someone else's perspective, it will be a success."
Having written poetry with incarcerated people as a volunteer in several prisons, Ouellet has seen firsthand the ways in which poems capture the emotional response to personal experiences, and believes the same technique can be used to help others express their perspectives of the criminal justice system as well.
"I think poetry or any art lets people share experiences and perspectives in a way that helps us understand one another. Plus, everyone can write and share poetry soliciting poems from people across different backgrounds is our way of capturing diverse perspectives," said Ouellet
Matt Larson, the faculty member leading the event, hopes it will open the doors of communication on the topic of justice so that more people can understand the complexity of problems within the criminal justice system.
"The only way to effectively address the misunderstandings is to bring people together to share and reflect. That's what we're doing. Rather than continue talking about the importance of communication, we're building a platform to get that ball rolling," said Larson. "At the very least, poetry is a fantastic mechanism for starting a meaningful conversation, especially on a topic as sensitive and challenging as justice."
If you would like to submit your own poem for consideration, visit the
event page
to access the writing prompts.