Staff
Director, Amy Latawiec
Dr. Amy Latawiec (known by her students as Dr. L) is an associate professor of teaching in the English department. Amy enjoys researching and reading about cognitive psychology (specifically resilience and habit-forming), developmental writing theory and pedagogy, and writing program assessment. Between 2011 and 2020, Amy led the English department's basic writing programming, developing standard curriculum, participating in assessment, and mentoring graduate students in the teaching of developmental writing courses at Wayne State and elsewhere. She earned her Ph.D. in Rhetoric and Composition in 2016 and has taught at Wayne State since 2010.
In addition to her commitment to researching and teaching writing, she is also a fitness enthusiast, a former gym owner and a fan of indie comics and professional wrestling.
Assistant Director, Grace Williams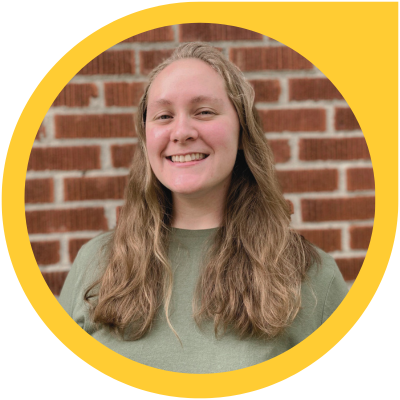 Grace Williams is a Ph.D. student in rhetoric and writing studies. At Wayne State, she's taught first-year writing, intermediate composition, and technical communication. Grace began her teaching journey as a Writing Center tutor at her undergraduate institution, Lake Superior State University. From there, she spent two years as a writing center consultant at Eastern Michigan University while getting her M.A. in Literature.
"One of my strengths as a tutor and teacher is my curiosity that enables me to ask questions of students to encourage them to go further with their ideas, investigate alternatives, or embrace open-endedness. I believe all writing assignments have three dimensions: what the literal prompt is asking for, what the assignor actually wants and what the writer hopes to get out of the experience. The challenge is bringing these three demands together in a single text. I enjoy helping people navigate this process within both academic writing and application materials."
Tutors
Haley Shier
Haley has been working as a tutor at the Writing Center for two years with experience working as a peer mentor for ENG 1020. Her tutoring strengths are in prewriting, brainstorming and outlining. She's also strong in assisting ENG 1020 and COM 1010 students. Outside of tutoring, Haley is a public health student who desires to be an epidemiologist. She loves to read in her free time.
Alex Heath
Alex graduated from Wayne State with a Bachelor of Arts in Art History, English, and Philosophy and is currently pursuing his master's in new media where his research focuses on videogames and visual narratives. Alex previously worked as a graduate teaching assistant and taught three semesters of English 1020.
Outside of scholarly interests, he can be found playing a wide array of games from Apex Legends to Dungeons and Dragons, and everything in between. Her strengths in tutoring are Chicago Style, MLA, and writing conventions for art history, English and philosophy.
Victoria Dupuis
Victoria is from Windsor, ON, Canada and has been tutoring at the university level for four years tutoring a variety of subjects ranging from math and science to psychology and English.
"I am a detail-oriented professional and I am good at helping students brainstorm when coming up with ideas and topics for their papers! A little bit more about me is I have experience in scholarship writing and graduate school applications. Please feel free to reach out if you need any help!"
Louie Alkasmikha
Louie has been a tutor at the Writing Center for a year, assisting students with their research, productivity and jumbling ideas together to start a paper. As a fellow student, he's integrated and learned a myriad of writing styles a student uses to complete their paper.
"During the writing process, a person can be flustered and confused when accomplishing their task. I am here to help that individual accomplish or gain some clarity of the assignment. Everyone has something they need to work on. However, through time and effort, we will get to a resolution to help propel us towards the correct direction."
Lukis Bagdon
Lukis is currently pursuing a B.S. in Secondary Education, concentrating in social studies, with minors in public health, and gender, sexuality and women's studies. He's also a public forum debate coach, previously competing in both PF and policy debate at the collegiate level. In his free time, he loves reading (currently trying to read 100 books in 2023 after succeeding in 2022) and spending time with his cats (Isaac and Reuben).
"Using inquiry-based learning, my tutoring at the writing center often finds me helping students with admissions essays, scholarships, and letters of intent. My main focus, influenced by my time in debate, has been rhetoric and grammar. I love helping students with the overall writing process, including how to outline, fine-tuning drafts and efficiency in the writing process. I also love argumentation-focused essays, thesis refinement and research. I also spend most of my time working with those applying to professional and graduate schools."
Nyyah Elliot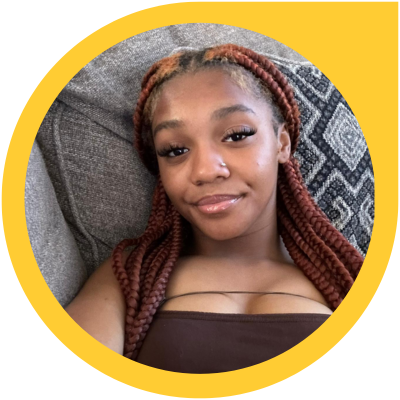 Nyyah is a sophomore here at WSU majoring in political science. Her strengths include work with undergrad students specifically ENG 1020 and 3010 students as well as helping students work on the structure and clarity of their writing.
"I'm very excited to be tutoring here at the WSU writing center! This is my first year tutoring solo at the writing center and I look forward to working with you all."
Izzy Burrell
Izzy is an environmental science and history major. She's an interactive and supportive tutor and works great with undergrad students.
"I love writing essays and research papers and can help create outlines, brainstorm and give suggestions! I love learning about others' writing process because I think it's pretty cool that everyone has different writing styles!"