Notes from field camp: Geology students share their experiences
Share
In order to complete their bachelor of science, geology students are required to enroll in a field camp course, usually taken during their final semester. It's an exciting experience that most students look forward to, as it offers them a chance to put their knowledge and training to the test in a real-world scenario. Here, two Wayne State geology students share their experiences from their 2017 field camps.
Mara Karageozian Her experience: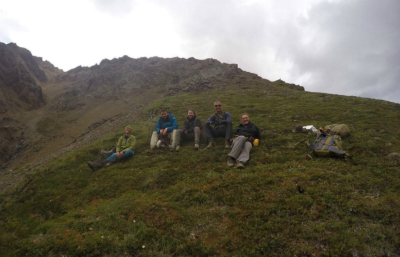 This past summer I received the amazing opportunity to join the University of Alaska Fairbanks (UAF) on their 2017 Field Camp course. Their field course is competitive and they only accept 18 students for the camp which includes a large majority of their own students. I was lucky enough to be accepted with my good friends and fellow WSU geology students, Makayla Meyers and Phil Trela.
Our field camp experience started off with flying out to the university. Alaska is pretty darn far from Detroit so getting there took around a day. Once we arrived we all stayed in the dorm rooms that the university rents out in the summer to out-of-state students like us. The dorms were great, but we knew not to get too comfortable because the bulk of our time during our eight week stay was going to be spent camping in the wilderness without bathrooms.
After settling into the dorms, the real work began. The total field course consisted of a week for an introduction to field geology/safety lessons, and seven weeks in the field and at the university typing up final reports. Alaskan field work is unique to the rest of the country (which we found out is referred to as "the lower 48" by locals). There is a large threat from wildlife and the elements when doing field work in Alaska, so we had two entire days dedicated to learning wilderness first aid and gun-handling. Our camp was required to have no fewer than two certified wilderness first responders and a shot gun (for bears).
After all this scary stuff, we set out for the trips! The course was divided into three trips, five days in Healy, 10 days in Denali, and a final 22 days in the Limestone Gap area in the Talkeetna Mountains. They eased us into the Alaskan wilderness by starting off first in a nice camping ground with running water in Healy, then a more remote campground in Denali National Park, and lastly in the complete wilderness with water only from a waterfall in Limestone Gap. It was this last leg that really tested whether or not you could handle the outdoors; our location was so remote we had to be flown in via two-person bush planes.
But it wasn't all camping and s'mores (we only had s'mores once!). The curriculum was incredibly challenging. I mean, you don't know how to map something geologically until you've done it, and after this field camp I've mapped three different areas and still am not certain I know exactly how to map. The challenge though, was what made it worth it. We were expected to use all of our knowledge from every geology class that we had ever taken; and some of the UAF students had taken more classes than us Wayne Staters, so the bar was set very high. We learned how to make accurate stratigraphic columns, do proper rock unit and structural descriptions, make mylar-layered geological maps of large-scale areas, and put all of the resources together into a final professional report. I've never once learned so much in one class in my entire college career whilst simultaneously hiking through amazing places; so worth the money!
Overall, Field camp is the highlight of any geology student's undergraduate experience, despite how far we had to hike each day and how bad our bodies hurt. We made friendships and professional connections for life, learned how to geologically map, realized how long we could really go without showering, and pretty much became geologists!


Her advice:
Apply Early: Since we don't have our own program, you have to get into some other university's. You will get in, so don't be nervous about that, but to get the good ones you have to get in there early.
Apply with friends: Just do it! Honestly, having a friend support group with you wherever you go is never a bad idea. Makayla, Phil and I may have wanted to kill each other after spending so much time together but having our three-person support system made every day so much easier to go into with a positive attitude.
Be smart with gear: We were in Alaska so unlike most field camps we had to be prepared for temperatures anywhere from 20°- 85°F with all types of weather. However, regardless of where your field camp is, buy the good gear. I'm not talking about wasting hundreds of dollars on the fanciest rain cover for your day-pack. Get yourself a good sleeping bag and pad, a great tent, and even better rain gear. And if you don't have two pairs of good hiking boots hop on that.
WORK OUT: If there is anything I can stress from my field camp experience, it's to do yourself a favor and get in shape. On our last trip, an average day for us was a 10-15 mile hiking day depending on where we were mapping. The trip before that required less horizontal distance and way more vertical distance with huge summits being expected daily. Field camp gets a lot easier if your thighs can hold up to the terrain! Recommended: stair steppers and long runs on the regular.
---
Erin D'Hondt
Over the summer I enrolled in the Albion College field camp that took us to Wyoming and Montana for our mapping projects. I was lucky enough to complete this journey with four of my fellow Wayne State geologists. Through various group exercises, field trips, and lectures we were introduced to different rock formations and their identifying features. Once familiarized with an areas story and formations we were set upon the area alone, or with others, to map contacts and faults to the best of your ability. So it's completely on you to correctly get the job done. Above and beyond that field camp is like living in a different world for a month with a new group of friends and teachers. You wake up early to start work and you stay up late to finish it. You travel to beautiful mountainous field areas and then curse them when you realize just how many of the mountains you have to climb. We got to go to many amazing places; Badlands National Park, Yellowstone, Grand Teton National Park, camped at Seminoe State Park, and drove through my favorite spot the Beartooth Mountains.
In large, it's not going to be easy and is only occasionally fun, but you are a geology major and this is what you've been training for. Field camp is hard work but there are teachers there to help you if you ask, so make sure to! My main tips for success would be this: take really good notes, wear sunscreen and buy a belt you can attach all your field gear to save time rummaging through your bag. It's going to be an experience unlike any other and you will certainly do great!

Learn more about WSU's geology programs at clas.wayne.edu/Geology/Program-Overview.