Students experience nomadic learning in Poland
Share
This May, for the eleventh time, Wayne State University offered a Poland Study Abroad Program. Eight students, led by WSU senior lecturer Alina Klin, arrived in Poland via Amsterdam. They spent one day exploring Amsterdam and visiting the Van Gogh Museum. Then they arrived in fabulous Poland! 

Below are reflections on the trip written by Alex Clegg, Leya Maliekal, Katie Martinelli, Emmeline Birchall, Gillian Demeter and Olivia Boileau.

All of the trip participants want to express their heartfelt gratitude to Mr. Ray Okonski, who generously supported the program. Thank you, Mr. Okonski for sending us to Poland!
Alex
Many universities around the world offer study abroad programs and they come in many shapes and varieties. Recently I decided to embark on one of these academic journeys to the rising economic power of Poland. The study abroad course was very intriguing because of the amount of time we were supposed to spend in various parts of the country. We would spend a week in Kraków, about 3 days in Warsaw and 3 days in Zakopane.
Leya
Every single day in Poland was filled with learning and experiences, whether it was witnessing the heart-wrenching realities of Auschwitz, discussing differences in international healthcare education with Norwegian medical students, or indulging in Polish ice cream and hot chocolate (I can't begin to explain how delicious both are). During one of our lectures at the Jagiellonian University, our professor described Polish romanticism—in other words, the spirit of the country that keeps trusting, believing and fighting against all odds, displayed through efforts like the Warsaw Uprising or the resilience of the Jewish ghettos. I was first exposed to the concept of Polish romanticism during a Polish culture class at Wayne State University, and though I did not know how to define the concept at the time, this romanticism is what drew me to further exploring Poland. I hope to carry this same spirit with me.
Alex
The lectures were held at the Jagiellonian University's School for Polish Language and Culture and at various locations around the city of Krakow, as a few of our lectures were walking lectures. This concept of having a walking lecture really engaged me the most. As a class we could walk to the actual sights while having a professor or masters student explain the history and significance behind the sights and places.

Katie
I will always remember the visit to Auschwitz. There is absolutely nothing (not even years of study) that can prepare you for what you see and feel while you are there. It rained the day we went. It was not until we were walking through Birkenau that I really got a feel for the overall experience of the victims. Seeing where the gas chambers actually were was an experience I will never forget and will aid me in my history studies and teaching. I also really enjoyed the Warsaw Uprising Museum and took lots of pictures of the commentaries next to artifacts so that I may research them later.
Alex
This concept of having a walking lecture was an extremely dynamic tool that added to my overall experience and learning. Trips like the one to Zakopane helped us to explore the local górale culture in person instead of from behind a textbook in a classroom thousands of miles away.
Leya
One of my favorite days during study abroad was hiking the Tatras Mountains near Zakopane. Before this trip, I had very limited exposure to hiking and was blown away by the beautiful views of the Tatras. The hike was several hours long, and we capped off our ascent with a meal at a hotel on top of the mountains where we ate until we couldn't breathe. The hike brought our group closer as we worked together to make it up and down the mountain, and we closed the night with a refreshing swim in Zakopane's mineral spas. It was incredible to me how one country could have such a dynamic blend of countryside and architecture, and I hope to visit again.
Emme
I took this picture of myself with Morskie Oko in the background on the last day of our weekend trip to Zakopane. We spent the weekend hiking, swimming in the mineral pools, and learning about the art and architectural style of Zakopane.
Alex
Visiting the Wieliczka Salt Mine, or listening to a Chopin concert in his birth place in Zelazowa Wola as well as minor details such as that apple strudel you ate on the mountain top in the Tatry mountains were all truly memorable.
Gillian
Friday, May 18th was Museum Night in Kraków. We went to an art museum, and it was basically free, only one złoty, which gave us admission to all of the museums open that night. The lines in the museum were very long, but the art was good. We got to see a famous Da Vinci painting: Lady with an Ermine. My favorite art was pastel paintings by Wyspiański; they were really nice. When we left we saw a projection (with a sound track) on the building of the museum; it was so cool!
Alex
The trip was an amazing balance of classic textbook education (we had some readings to do as well) and interaction with the environment. I believe that my interactions in museums, nature and in public were just as beneficial, if not more so, than being in a classroom setting. To learn a subject as complex as another culture we need to go there and explore and live that culture ourselves. There is only so much you can learn from a book before you need to experience it yourself.
Emme
This is St. Mary's Basilica and the Adam Mickiewicz Monument in the center of Kraków's Old Town.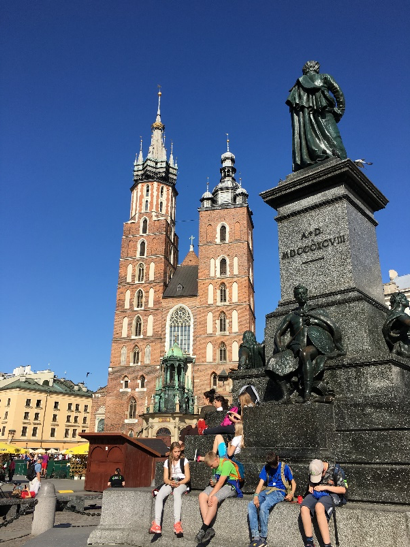 We spent a few evenings drinking hot chocolate in one the cafes on this square.
Olivia
Before seeing the ad for the 2018 Poland Study Abroad I had never considered leaving home to go study in a country I had never visited before. But after this experience, I am so glad I stepped out of my comfort zone. Studying abroad immersed me in the culture of Poland where we were allowed to explore and experience the city and feel like locals. Instead of reading about an event in a textbook we actually stood in places where history took place. Studying abroad in Poland has been one of the most amazing experiences of my life.
The next WSU Poland Study Abroad Program is planned for May 2019. Come with us to Poland!