International internship lands global studies major Connor Tukel at Institut Pasteur in Paris
Share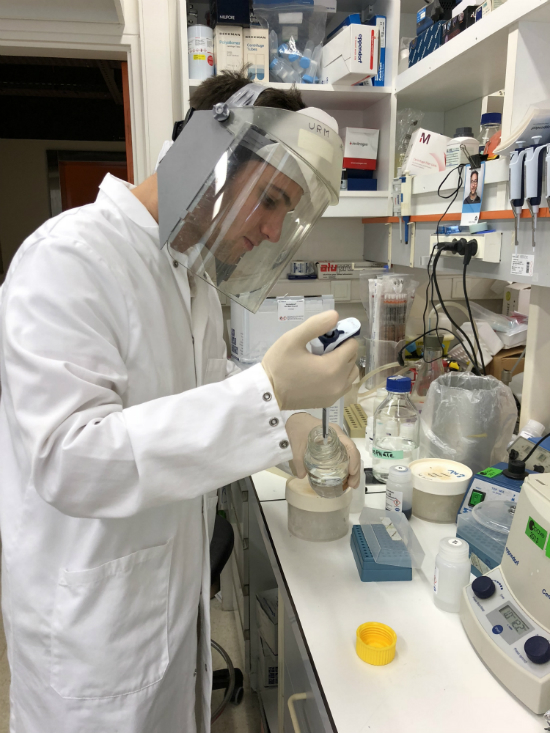 The internationally renowned Institut Pasteur in Paris has selected global studies major Connor Tukel for a coveted summer research internship.
For the last 10 weeks, Tukel has been assisting cancer researchers in the institute's Molecular Retrovirology Unit, studying the APOBCC3C gene and its effect on the development of the disease.
Tukel received a $6,500 stipend from the Pasteur Foundation to defray the cost of travel and living expenses, helping him to board at Cité Internationale Universitaire de Paris while he advances his studies in the spirit of Louis Pasteur, who developed pasteurization and vaccinations for anthrax and rabies.
Pasteur founded the international biomedical research institute in 1887 to prevent, diagnose and combat diseases, and develop knowledge for the medicine of tomorrow, an idea that resonates with Tukel, a MedStart student and member of the Irvin D. Reid Honors College.
He was recognized at last year's Global Crossroads scholarship competition sponsored by OIP for a photography project that featured his views of life on campus and in the city of Detroit taken through the lens of a 360-degree camera.
Earlier this year, he shared an Undergraduate Research Opportunities Program grant to create a drone that could be employed at the scene of a drug overdose for a pre-hospital intervention.
Tukel says his interest in global health and technology will prepare him to be a more rounded doctor ready to meet the needs of patients in an ever-changing world.
This article originally appeared at oip.wayne.edu.
The Office of International Programs leads Wayne State's global engagement by creating opportunities that foster international education and research, facilitate the exchange of individuals and ideas that promote global competencies and citizenship, and provide resources that support the expansion of the university's global agenda. Follow them on Twitter @WayneOIP.