Faculty present research across the globe, win grants, host conferences
Share
Faculty win grants, present research at home and abroad
In October 2016, Professor Michael Giordano (French) presented an invited paper at the Sorbonn
e titled "L'écu héraldique et le corps de la femme dans les Blasons anatomiques du corps féminin Autour de deux blasons de Maurice Scève." This research dovetails with a paper given in Nancy, France for the Eleventh International Congress of the Society for Emblem Studies, July 2017, "Parallels and Differences between les Blasons anatomiques du corps féminin (1543) and Neo-Latin Works as Illustrated in Poems by Nicolas Bourbon and Salmon Macrin." Professor Giordano is on the International Advisory Board of the Society for Emblem Studies and is on the Executive Committee, Wayne State University, of the Center for Renaissance Studies, The Newberry Library, Chicago.
Dr. Silvia Giorgini-Althoen (Italian) presented a poster, titled "Not Only Rhymes," at the College Board's Professional Development Poster Presentation Event during the World Languages AP Reading. Her research, based on work with artist and poet Pietrantonio Bernabei, demonstrates that writing poetry in a foreign language strengthens language abilities and elicits a deeper understanding of the target culture at any competence level.
Professor Lisabeth Hock and Dr. Layla Saatchi's article, "Crossing Borders, Crossing Disciplines: Ali and Nino in the Twenty-First Century" appeared this summer in Approaches to Kurban Said's Ali and Nino: Love, Identity, and Transcultural Conflict, edited by Carl Niekerk and Cori Crane (Camden House 2017). The German studies scholar and the scholar of philosophy and Near East Studies combined their disciplinary knowledge to describe an interdisciplinary approach for teaching a 1937 novel about a Muslim man and a Christian woman who fall in love in Baku, Azerbaijan on the eve of the Russian Revolution.
Dr. Laura Kline (Russian, Global Studies) was awarded a $10,000 grant from the Charles H. Gershenson Trust to fund the WSU performance of Chekhov's "Black Monk," the filming by WSU students of "Shostakovich and the Black Monk: a Russian fantasy" (performed by the Great Lakes Chamber Music Festival and the Emerson String Quartet), the writing of reviews by WSU students of that performance, and more.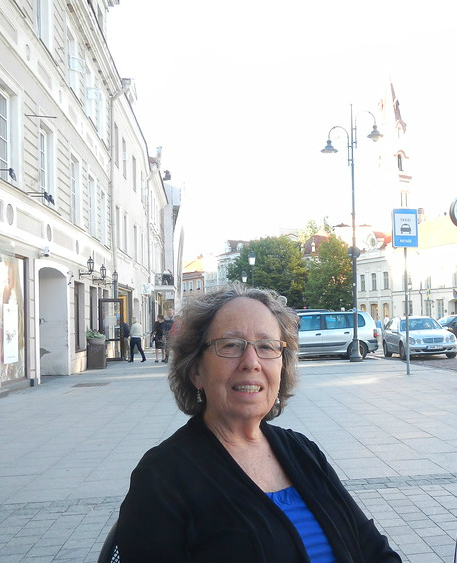 In May 2017, Professor Elena Past (Italian) was a keynote speaker at a conference in Västerås, Sweden. The conference examined "Ecocriticism in The Nordic Countries - Yesterday, Today, Tomorrow." Professor Past's paper, "Fire and Ice: Northern Natures, Southern Neighbors, and the Future of the Environmental Humanities," unraveled how existential anxieties about climate change are evident in Paolo Sorrentino's film Youth (2015).
Professor Emerita Margaret Winters gave a talk at the International Conference on Cognitive Linguistics in Tartu, Estonia in July. She is speaking as well at the International Conference on Historical Linguistics in San Antonio, Texas in early August.
Faculty lead organization of international conferences
Professors Past, Victor Figueroa (Spanish), and Anne Duggan (French) all worked to organize and host major conferences on the Wayne State University campus in the summer of 2017. Professors Past and Figueroa worked with colleagues across campus and from Oakland University, University of Michigan, and the community to bring the ASLE (Association for the Study of Literature and Environment) biennial conference to Detroit, June 20 through 24. Titled "Rust/Resistance: Works of Recovery," the conference attracted over 900 scholars from across the globe for five days of presentations, plenary lectures, field trips to area destinations including Belle Isle (in the photo), and a cultural crawl through Midtown featuring arts, music, poetry, and film.
Professor Anne Duggan hosted the conference "Thinking With Stories in Times of Conflict: A Conference in Fairy Tale Studies" on WSU's campus August 2 through 5. Leading scholars in the vibrant field of fairy tale studies gathered, engaging in dialogue between creative and scholarly thinking with wonder tales in times of conflict. Professor Jack Zipes (University of Minnesota) was the conference's keynote speaker, delivering an address titled "Speaking the Truth with Fairy Tales: The Power of the Powerless."