Hands-on learning with Wayne in Abruzzo
Share
Since 2004, the Wayne in Abruzzo program has created unique opportunities for students from Wayne State and around the United States to experience Italian culture firsthand.
This year, the Italian conversation class taught by Silvia Giorgini-Althoen dug deep into Abruzzo's culture and traditions by learning how to make "spaghetti alla chitarra" ("guitar-style pasta") from scratch, as well as how to prepare different sauces with which to savor the pasta. As Aaron Hedblad (Wayne in Abruzzo '18) explained, "We went to a restaurant to see how it was made and we actually got to make some ourselves. It really felt as though it were part of the 'Italian experience.'"

Students in the course also worked with an Italian artist and poet who came as a guest lecturer and led a workshop on different kinds of poetry. In particular, the class loved learning about the visual poetry style of the Italian avant-garde, and they were very proud of their final creations! "It was nice to explore my creative side while learning Italian at the same time," Hedblad observed.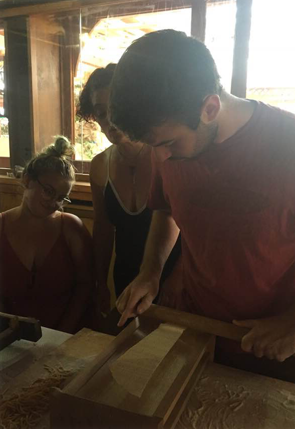 More than twenty American students lived with a group of forty Italian students in the village of Gagliano Aterno, which is in a beautiful regional park in the Apennine mountains. Next year's program is scheduled to take place from July 3 – August 2, 2019, and will be an equally unforgettable experience.
Grace Fusani (Wayne in Abruzzo '18) says that "Wayne in Abruzzo is a life-changing program that gave me the opportunity to become super close to both Americans and Italians. I learned so much about myself and the culture in the process."