Masters student explores out-of-this-world research on the American astronaut
Share
Nicholas Rhein has been interested in space and space exploration for as long as he can remember. Now, as a student in Wayne State's Joint Master of Arts in History and Library and Information Science, he's using that curiosity in his graduate studies. He's been able to connect that curiosity with the past to create a truly out-of-this-world graduate research project.

Rhein is writing his master's thesis on astronauts and how they served as a cultural symbol of American masculinity during the Cold War.
He's focused his research on the U.S. space program from the late 1950s through the mid-1970s and examines the cultural symbol of the astronaut through the lens of gender politics. More specifically, Rhein wants to look at the role that gender and gender performance played in the cultural construction and understanding of the astronaut to Americans.
He went between a couple of different ideas for the first year of his research, but nothing caught on until last semester. Rhein took the course History of Women, Gender, and Sexuality in the United States since 1945 with Professor Liette Gidlow when he discovered his passion for his current research.
"In my paper for that class, I decided to focus on these articles that Life magazine ran in the late 1950s about the astronauts and their wives. It examined the difference in the treatment of the two," said Rhein. "This grew into looking at the astronaut as a whole throughout that decade, which then turned into what will now be my master's project."
Rhein's research started when he was inspired by the book from the 1980s called "The Right Stuff."" The story follows the formation of NASA and its first space flight programs. It also looks at the roles of the astronaut's wives how that affected their husband's selection for NASA. He then looked at NASA documents such as press releases and internal communications files. Rhein has used a wide variety of resources to synthesize American popular culture in this era.
"Anybody who has done any work on space history knows that can be a challenging undertaking because their archives are all over the place," said Rhein. "Every NASA center around the country has its archives. Some are digital, and some aren't, so there is a lot there."
Rhein's next steps in his research are to use a collection of secondary sources to understand better how the space program fits into the broader culture of this era and how it interacted with the counter culture. Rhein has found free resources and newspapers helpful and is currently incorporating films from that period into his research.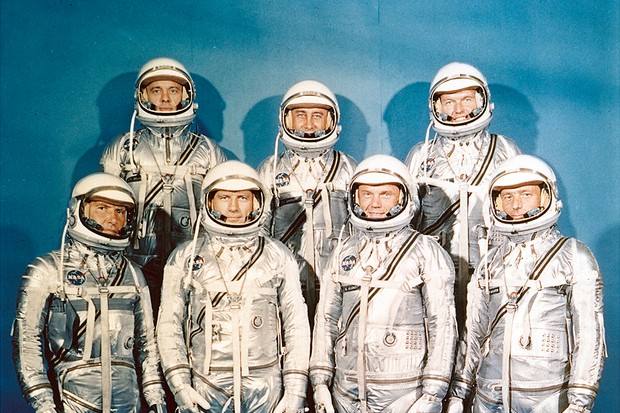 "I want to incorporate science fiction films that depict space flight, not as fun and adventurous like it was in the 1930s and 1940s, but more cerebral and scary," said Rhein. "Also movies that have more nuanced, complicated gender roles."
Although Rhein is new to gender history, his interest in history as a whole started before entering his master's program. He started his college career with a B.A. in media arts and a minor in history.
Rhein says that this is not the end of his research and educational journey. As a dual-degree student in the School of Information Sciences, he plans to work in a library before earning his Ph.D. He hopes to continue his research as dissertation work and even possibly a book in the future.
By Hannah Naimo