Communication sciences and disorders alum charts stellar career at Henry Ford Health System
Share
Alice K. Silbergleit, M.A. '83, Ph.D. '93, is the director of the Division of Speech-Language Sciences and Disorders in the Department of Neurology at Henry Ford Health System and an associate professor (clinical educator) full-time affiliate in the Department of Neurology at the Wayne State University School of Medicine.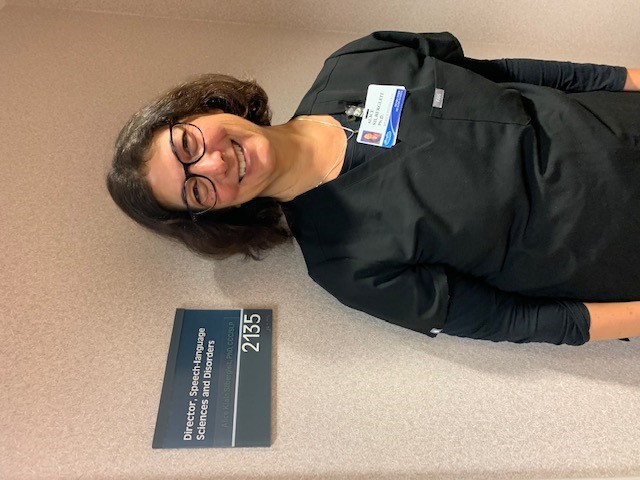 A two-time graduate of the Department of Communication Sciences and Disorders in the Wayne State University College of Liberal Arts and Sciences, she has more than 30 years experience as a certified speech-language pathologist at HFHS. As director for the past 20 years, she has grown the division from four speech-language pathologists to over 30 clinicians at nine locations serving children and adults throughout southeast Michigan with a variety of communication and swallowing disorders—known as dysphagia.
Silbergleit first became acquainted with communication science and disorders by shadowing the speech-language pathologist at her high school.
"She actually let me go to classes with her and observe her doing therapy," Silbergleit said. "I thought it was fascinating. I loved it."
She enrolled in the speech-language pathology program at MSU for her undergrad, completed her master's at WSU, and went on to complete a clinical fellowship at the Cleveland Clinic where she specialized in dysphagia. Later, she returned to WSU to complete her Ph.D. while working full-time at the University of Michigan Hospital. She drove into Detroit in the evenings for classes.
"Prior to 1989, there was one speech pathologist who had been at Henry Ford for about 20 years and he served the entire thousand-bed hospital, plus outpatients," Silbergleit said. "The Joint Commission (who is responsible for certifying hospitals around the country) said you have to improve on this. So they hired Dr. Alex Johnson as director of speech pathology and tasked him with putting together a team."
Johnson would later step down to become the chair of the Department of Communications Sciences and Disorders at WSU.
For Johnson, Silbergleit was an obvious choice; Henry Ford was developing a dysphagia program and she was helping lead a dysphagia group at the University of Michigan Hospital.
"I had to start over from scratch educating doctors and nurses and radiology technicians on the importance of looking at the oral and pharyngeal stages of swallowing," Silbergleit said. "I developed a competency program for anyone who was going to participate in the study."
Once the program got off the ground, the team conducted a few studies a week, she said. Now, HFHS conducts an average of 20 swallowing studies a day between all campuses, performing thousands of diagnostic tests and treatment sessions a year for individuals with dysphagia across southeast Michigan.
The department now diagnoses and treats children and adults with speech and language disorders, neonatal feeding disorders, autism, cleft palate, stroke, head injury, head and neck cancer, transgender voice, professional voice and voice disorders, and neurological diseases.
The Division of Speech-Language Pathology created their own clinical fellowship program, too. "It's highly competitive," she said. HFHS receives between 40 to 50 applications annually but has only one to four spots depending on the year.
More graduates want to get involved in medical speech-language pathology and more patients are receiving better and quicker care, she said.
A united harmony
That care doesn't always take place in a hospital room. In 2019, Silbergleit started the Henry Ford Motor City Upbeats Therapeutic Choir for individuals with Parkinson's disease and other neurological or medical disorders as a way to compliment voice therapy techniques in a supportive group atmosphere.
Parkinson's disease causes the voice to become small, monotone and hard to hear, she said. "Our therapy is designed to get people louder," but she noticed that patients who had done well in therapy in the past were returning for follow-ups and had regressed. "Maybe they lived alone, didn't have people to talk to and they weren't practicing."
It inspired her to create the choir to instill a sense of accountability and comradery. The choir has performed around the Detroit area, most recently singing the National Anthem at the Michigan Parkinson Foundation annual fundraiser in the summer of 2021.
The pandemic has pushed practice sessions online but the group still meets virtually twice a week. It's one of many ways in which Silbergleit takes pride in watching her patients thrive.
"The best thing about the work is the relationships you build with your patients and knowing that you've made a difference, hopefully—it doesn't always happen but you know you're doing your best. You know you're doing evidence-based practice," she said.
Silbergleit is currently writing a paper on swallowing before and after Botox injections for patients with cervical dystonia, a condition in which neck muscles spasm involuntarily. Most recently, she was an invited speaker at the First International Conference of the Mexican Society of Dysphagia. She also received the Outstanding Clinician Award from the Michigan Speech-Language-Hearing Association in 2019.
Written by Kristy Case, Wayne State University Graduate School
For more information, please click on the this link: Dysphagia